Program uses horses to ease veterans' PTSD
The therapy is provided through the volunteer-run nonprofit Rock Creek Riders and with help from U.S. Park Police Horse Mounted Unit officers
---
By Police1 Staff
WASHINGTON — Veterans struggling with PTSD often have support dogs to help them adjust to civilian life, but the Ridewell Program in Washington, D.C. finds that horses help distressed former soldiers just as well. 
Equine therapy, provided through the volunteer-run nonprofit Rock Creek Riders and with help from U.S. Park Police Horse Mounted Unit officers, offers veterans a source of peace, pride and healing as they learn to ride and care for the horses.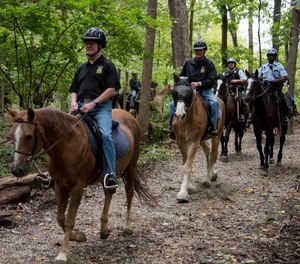 The program has a positive effect on veterans, many of whom are working to overcome not only physical injuries, but mental and emotional wounds as well. 
"Thanks to the teamwork, natural setting and the time spent with horses, doctors and families have noted improvements in their balance and mental wellbeing, as well as pride and joy in the wounded warriors' accomplishments," the Department of the Interior wrote in a blog post.