Cops in crisis: The power of peer support in PDs
A peer support program can enable a police department to actively work to prevent and treat the crippling after-effects of trauma
---
Pulse of Policing 2015: The State of Law Enforcement is an ongoing research venture aimed at examining the current state of policing in America from the individual, organizational, and industrial perspectives. The below article is a part of our first series focused on the individual – a series that will also examine issues such as the strain on morale for individual officers and heart health. Learn more about Pulse of Policing

"I wanted to give you this," a soon-to-be retired cop said, reaching his hand out and dropping a bullet into the palm of a fellow cop.
The other officer examined the bullet in his hand with bewilderment.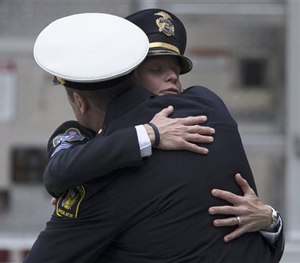 The two had met years ago. An invitation for coffee became the start of what would become regular get-togethers.
On the cusp of hanging up his uniform and turning in his badge, it was time to reveal how substantial those meetings had been.
 "You didn't know this, but I was on my way home to load my gun with this round, put it to my head and end my life. My mind was made up. You asked me if you could see me for coffee. And then, I had someplace I had to be. So I couldn't do it," the officer explained.  "I wanted you to have this and know that day you saved my life."
How can a police department actively work to prevent and treat the crippling effects of trauma that can occur after an officer has been involved in a critical incident? A peer support program offers a solution.
Cop to Cop
The purpose of a peer support group is to aid an officer during times of both professional and personal crisis through the use of specially-trained volunteer officers within the department. Left untreated, the effects of trauma — depression, anxiety, marital discord, and alcoholism among them — can be catastrophic. In an intensely familial profession, a police officer may be more likely to seek help through one of their peers than someone outside of the uniform.
Dorie Jones, who works as a Critical Incident Stress Management (CISM) Specialist at the Federal Law Enforcement Training Center (FLETC) and is a co-founder of Crisis Support Solutions, has seen what can happen after the dust settles and an officer is left dealing with the mental and physical toll of a traumatic incident.
"It [peer support] brings to the department the call for care from a credible source," Jones said. "Just being in front of someone that shares that same uniform or a similar experience [who is] not judging, mocking or minimizing your experience already validates where you are as a hurting, suffering, struggling person. And at the end of the day, aren't we all people who need a sense of validation? To sit across from somebody and say, 'I get you' is incredibly validating."
The degree of support a volunteer provides can vary — even a simple pat on the back or taking an officer out to eat can be enough in some cases to keep them in the fight. For cops that are less likely to share their struggle with someone in the same profession, or for cases that require a higher level of training to treat, a volunteer can help the victim connect with the person they feel is most likely to help them — such as a chaplain or a psychologist. The program is not meant to be in competition with other avenues of treatment — instead, it should be viewed as complementary. It's making that initial connection — even if it results in a referral — that's a vital component of being a peer support volunteer.
Changing an Officer's Mindset
An undeniable aspect of law enforcement culture is the 'tough-guy' mentality that permeates through it. As a result of this, cops can often perceive seeking help as a defect or character flaw.
"That's an education issue. Something happened to you that is so powerful, so overwhelming and so unexpected that it cannot not overwhelm you. You have no ability to cope. When someone tells me, 'I can't believe I can't handle this,' what I teach is that labeling yourself as weak is you condemning your sense of character and personality," Jones said.
A peer supporter can help an officer alter this perspective — reframing how they see themselves in the wake of an incident.
"Whether you watched your buddy swallow his own gun or you lost control of your car and someone was killed because of it — the reason officers can't handle this is not because they're weak in character, it's because they don't have the skill. Coping is a skill. And what cop out there doesn't love to enhance his or her skills? Whether it's a new way to shoot, a new cuffing technique, learning a new forensic technology — the culture is geared toward skill acquisition and enhancement. That's all coping is: learning resilience," Jones said. "How do you not allow this to define who you are?"
Training for Trauma
While there is no standardized training for peer support volunteers, most undergo an initial program that can range from 40-96 hours. Ongoing peer development is also a must in order for volunteers to fine-tune their skills after they've gained some experience working with trauma. While it's entirely up to the agency to decide the standard of training, the aim is to teach volunteers the critical skills they need — such as building rapport — to restore balance to a person in crisis.
Jones breaks down this training into four sections — listen, assess, address and follow-up — what she calls the LAAF model:
Listen: Creating a safe space emotionally and physically with the person you're treating to get them to open up.
Assess: Assess a trauma sufferer's state of mind by picking up on things such as verbal/non-verbal cues or analyzing a victim's thought-process.
Address: Working with the affected officer and recognizing when the treatment requires a referral.
 Follow-up: Techniques that can be used to continue your connection to the person in crisis (such as taking them out to eat or offering to drive them home).
The Power of the Peer
In a presentation at the FLETC following the Virginia Tech Massacre, Col. Steve Flaherty of the Virginia State Police Department reportedly said he believed the reason why half of the VT Police Department walked off the job in the months after the 2007 shooting was partly due to a lack of crisis support services for the officers.
Peer support is a vital component of maintaining health and wellness in a police agency. Officers often enter situations on and off the job that can result in lasting negative effects on their physical and mental wellbeing. By enabling colleagues to support affected officers through specialized training, a department is creating an environment built around prevention, intervention and breaking the negative stigma commonly associated with seeking treatment by normalizing it.
"I know for a fact this program has saved thousands of lives — that's not hyperbole, that's a fact. That's why I do this," Jones said.
For more information on peer support programs, check out the International Association of Chiefs of Police's Peer Support Guidelines or visit Crisis Support Solutions.