How police militarization's 'poster child' is correcting the unfair narrative
Companies such as Lenco, LRAD, Combined Systems, Tactical Electronics, and others must now satisfy the questions and concerns of a larger constituency
---
Pulse of Policing 2015: The State of Law Enforcement is an ongoing research venture aimed at examining the current state of policing in America from the individual, organizational, and industrial perspectives. Below is an article in a series of pieces which will address how the private industry is tackling the challenges police departments are currently facing. Learn more about Pulse of Policing

By Lenny Light, Lenco Vice President and General Manager
"When we consider that basically every department in the municipal government has specialized equipment to perform their jobs – fire departments have very special fire equipment, city DPWs have plow trucks and sanders. Police departments…need equipment like this, not only to protect their lives but to protect the lives of downed citizens in emergency situations."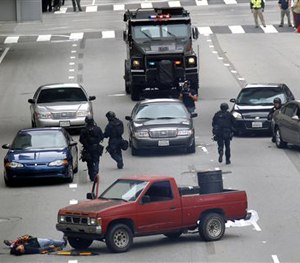 My father — Len Light, Lenco President and CEO —  spoke those words back in April 2000. After a year of research and development, Lenco introduced the first purpose-built armored police vehicle — the BEAR — following events such as the North Hollywood shootout and the Columbine High School massacre. Much is the same since then, and yet a lot has changed.  For starters, My father is now semi-retired, and I have progressed into the the role of guiding Lenco and addressing the daily opportunities and threats that face the company.  
Following 9/11, along with the creation of the Department of Homeland Security (DHS), the roles and responsibilities of the LE community rapidly grew and evolved. No longer were cops tasked with basic community policing, they were now tasked with homeland security, border patrol, and terrorism preparedness and response. Equipment suppliers had to evolve with the LE community. BearCats grew more sophisticated, and non-lethal options such as the LRAD and CSI Smoke Munitions were developed. All of these vendors have played central roles in the 'police militarization' debate, with the Lenco BearCat leading the pack.
Today's Trends and What the Future Might Hold
It's an exciting and challenging time to be a vendor in the tactical space for law enforcement equipment. With constant media exposure, we routinely witness how our equipment is utilized in real world scenarios. BearCats that help subdue an active shooter, LRAD units that communicate during peaceful protests, as well as a variety of other scenarios involving different equipment providers are all played out online and on national TV, sometimes in real time. We've seen BearCats praised for their usage and we've seen BearCats vehemently condemned.
One thing is clear — there are more stakeholders now than ever before. Companies such as Lenco, LRAD, Combined Systems, Tactical Electronics, and others must now satisfy the questions and concerns of a larger constituency. In addition to explaining the features and benefits of our products to the end user, we must also demonstrate the justification to local politicians and emphasize the value proposition to the public.
For Lenco, that means promoting a broader use across the entire first responder community — police, fire, and EMS. In order to bridge the inter-agency gap, our product line needed to evolve. Lenco developed an armored MedEvac for EMS use in downed officer or citizen rescue scenarios. The MedEvac better aligns police with tactical emergency care professionals where immediate trauma response in the hot zone is critical. More recently, we incorporated features on a BearCat that are more akin to a fire truck for use in conjunction with fire support staff. The trend is to bring police, fire, and EMS together in high risk scenarios that used to only involve the SWAT team. The SWAT-only specialized BearCats are slowly becoming a thing of the past.
We anticipate in the future to continue the trend of taking more stakeholders into account. At Lenco, we are expanding the non-technical content we make available to these stakeholders. It's our responsibility to support our customers in demonstrating the need for this equipment to their community. How do these vehicles save lives? What scenarios require their use? How will our police departments track their usage? (Read: Help us trust you so we feel comfortable with this thing in our community.)
We are also expanding the guidance we provide to agencies in complying with the new Executive Order. Cops are busy fighting crime; it's our job to simplify the new guidelines surrounding Wheel Armored Vehicles. As the Federal government continues to expand its oversight, we anticipate more vendors will identify new guidelines impacting their products and educate their customers.
Moving the Needle on Negative Public Perception
As the 'poster child' for the militarization of police, it's no secret the negative public perception (led by often inaccurate media reports) has impacted Lenco's sales efforts to the US Law Enforcement community. But more importantly, the public perception has hurt the men and women we build these vehicles to protect. Agencies around the country, for fear of inviting negative publicity, are putting purchase plans for proven, life-saving equipment on hold. We are all accountable to improve the current state of affairs — vendors, end users, law enforcement associations, state and local politicians, the media and members of the public.  
Heading into 2016, playing a role in framing the narrative regarding tactical equipment and the need for that equipment is perhaps our most pressing responsibility as vendors. Up until recently, we have let critics control the discussion surrounding the need for tactical equipment. It's time we fight back. Transparency and accountability are chief among our tools to move the needle on negative public perception. For 17 years, Lenco and more than 700 police agencies have discussed, evolved, and improved our safety equipment. Now is the time to show — in greater and more consistent detail — how and why this equipment has been so important.
At Lenco, we've developed a 'Lenco Stories' document which highlights the many incidents involving Lenco vehicles where citizens have been rescued, vehicles have defeated high-powered weapons and hostile situations were brought to a peaceful conclusion. In short,  these vehicles save lives. The recent shooting in Colorado Springs (Colo.) is a textbook case of wheeled armored vehicles  not only saving lives, but being recognized as critical equipment. We need to highlight more stories like this — both high-profile incidents and incidents that do not get the exposure they deserve. 
Lenco has also made a commitment to increase our communication and partnerships with national police organizations such as NTOA, IACP, and NSA as well as regional organizations including NYTOA, Ohio Tactical, TTPOA, CATO, PATOA, Florida SWAT, and many others. Any tools we create to highlight the life-saving role of our vehicles must be shared with the entire community. Those case studies and success stories have to be spread at the local level in hopes the message germinates up to the national level. As a community, we need to be as committed and passionate about the need for this equipment as our detractors are about its claimed misuse.
Back in April 2000, my father said, "When the police were running alongside of a firetruck (at Columbine High School) and they needed to stay away from the building and use that firetruck as cover, they could have been inside the BEAR and driven right up to the doors."
It's the same scene that played out in Colorado Springs with the El Paso County Sheriff's Office and their BEAR just weeks ago. A lot has changed since 2000, and yet much is the same.