Trials and tribulations of modern-day policing: How I keep my head up
What are today's cops doing that keeps them engaged in the job, with their heads up? The answer is simple — we want to leave a better world for our children than what was left for us
---
Pulse of Policing 2015: The State of Law Enforcement is an ongoing research venture aimed at examining the current state of policing in America from the individual, organizational, and industrial perspectives. The below article is a part of our first series focused on the individual – a series that will also examine issues such as PTSI and heart health. Learn more about Pulse of Policing

I was recently dispatched to a call for service in a lower-income neighborhood. The reporting party (RP) — an African American female — called 911 because her neighbor's adult son was off of his medication, and 'karate chopping' and kicking people's fences and yard decorations. The suspected man's mother was Caucasian, and I'll admit it — based on current conditions, I felt a bit of trepidation going in to this call.
As I spoke to both parties on the sidewalk, the mother explained that her son does not currently live with her, and had fled prior to our arrival. He infrequently stops in for a shower or food, and doesn't hang around. As she spoke about her son, she became visibly irritated, and made comments such as, "I don't even use the term n_____."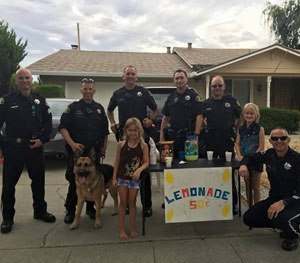 I forcibly told her there was no reason to speak in that manner, and her behavior was only compounding the problem. She agreed to pay for the damage to the neighbor's fence — which freed us to move on to other things. 
As I began to think about wrapping this call and moving on to the next one, she stated, "Now, when you guys find him, don't shoot him. He doesn't carry weapons." 
I politely asked her what the point was. 
She replied, "I watch the news — that's all you guys do is drive around and shoot people." 
After 18 years as an officer, I'm not afraid to tell people what I think. I told her that I had better things to do than listen to comments such as that, and turned to walk to my car. 
The African American woman who had made the call to police followed me and said, "Sir, don't listen to her. That's the fault of the media, the politicians, and her ignorance." 
I thanked her in earnest, shook her hand, and told her, "Call us anytime. I'm always available to help you."
Perception
Across the country, it appears that the majority of Americans are at war with their cops. Public perception of us feels as though it's at an all-time low as unsavory politicians and mainstream media pounces on any perceived misdeed.
None of that is fact, of course, but it is a common perception from those of us in uniform — and perception is everything. While we intellectually understand that there's a vast population of people who support police, the people we come into contact with on a day-to-day basis do not (to say the least), and they are shaping our perception to a large degree.
In addition to being pelted with insults — and sometimes objects — we continue to be dispatched to high-stress incidents and calls for service. In those events, being able to find or even create something positive can help offset all of the negative. This is important because I do this job for a couple of very important reasons, and I need to keep my head up even in these tough times. 
'Frozen' Fan
I was recently dispatched to conduct a welfare check on a five-year-old girl who lives with her grandmother and step-grandfather after it was reported by her non-custodial grandparents that there was inappropriate behavior on behalf of the adult uncle; a part-time resident of the house. Due to the nature of the allegations, a social worker with Child Protective Services accompanied us.
With the other officer and CPS spoke with her guardians behind closed doors, I was left to entertain the five-year-old. As the father of a six- and four-year-old, I felt well prepared. 
After several games of 'rock, paper, scissors,' a few sessions of hide-and-seek,  and some playing around with my $300 flashlight, it was time for CPS to interview her. Having built a rapport with her, I sat in. We concluded that inappropriate actions had been committed in her presence.
Of the many things I learned about her during our three-hour visit, one of the most important was she was a major fan of the movie 'Frozen.'  Over the years, it's been my unfortunate experience to handle dozens of cases like this — some worse, some better— but something about this particular little girl struck a chord with me. 
After telling my girls, "Daddy met a little girl who was not being treated very nicely," I made plans to take them shopping for 'Frozen' gear to deliver it to the young girl the next time  I checked in on her.
It's About Tomorrow
Those calls sucked. As a fellow officer, you know there are hundreds just like it — you've been on them, too. I've had multiple relatives and friends say, 'I couldn't do your job,' or 'I don't get why you guys do it.'
So, why do we do it?
I know from personal experience that staffing is a problem — and recruiting is only going to get harder. Even those leaving the armed forces — at one time our greatest talent pool — see the nightly news and decide they'd rather do something else. 
So what keeps me going? What keeps my head up? I have two reasons: My love for my family, and my love for my profession. 
I often ask myself and my colleagues, "If we don't do this work, who will?"
We are people, and just like all decent people, we want to leave a better world for our children than what was left for us. We are also proud of our profession, and we want to leave it in better condition than when we came on the job. That's looking harder and harder these days, but it's not impossible. 
As the father of two small girls, I worry daily about the climate we are creating, and the type of people they will engage with.
Law enforcement is the levee holding back the surge. If the men and women willing to do what we do were absent, the resulting flood would be anarchy. 
As difficult as it is some days, I still love what I do. I love watching cops work and taking part in the day-to-day roller coaster. 
I long to have a lasting impact on the future generation of cops, and to embed in them the love of the job that's kept me going all these years. If we throw up our collective hands and turn our backs, even to our detractors, the culture erodes and will soon be extinct. 
Once that happens, who will protect my kids?
For my fellow citizens — I ask that you give us a chance. We are bleeding and dying daily to do a job that requires our world revolve around yours. Benefit of the doubt and not rushing to judgement is really all we ask. 
For my fellow officers — I say when at work, be at work, and when at home, be at home. Now, as always, law enforcement is a noble profession and there are many who appreciate it. 
I know I do.