LEO gifts new bike to girl who had hers stolen
A deputy in Arkansas is being credited for going above and beyond for a girl who had her bike stolen
---
By Police1 Staff
GARLAND COUNTY, Ark. — A deputy in Arkansas is being credited for going above and beyond for a girl who had her bike stolen.
Garland County Deputy Justin Butcher, who works as an SRO for the Fountain Lake school district, recently took a report from Carrie Carr after her daughter's bike was stolen, KATV reported. But instead of just filing a report, Butcher decided to help the girl, named Dylanne.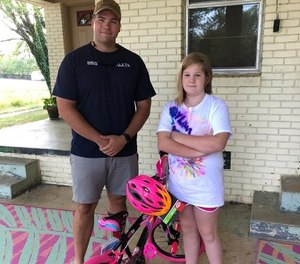 The deputy, along with representatives with a local Walmart, replaced Dylanne's bike. In addition to the new bike, Dylanne also received a new helmet.
"I can't believe he cared about me and my bike when he's so busy keeping everyone else safe from the bad guys," Dylanne said.
Dylanne said she and her mother were grateful for the gift. The Garland County Sheriff's Office said the young girl's mother thanked the deputy for his act of kindness.
"I think kids sometimes think authority figures are just there to boss people around," Carrie said. "She and her sister will never forget the good side of what you guys do. I know I won't."