Quiet Warrior: How a detective's mentorship changed a young boy's life
Since he signed up for the "Bigs in Blue" mentorship program, Detective Ryan Brady has witnessed first-hand the difference one cop can make
---
Sponsored by 5.11 Tactical
A few years ago in Roanoke, Virginia, a fourth grade teacher kicked off a discussion about police officers and their role in society by posing a question to the class.
 "What do police do?"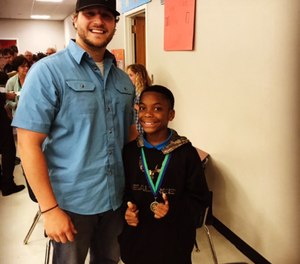 "They shoot people, that's what they do," a student responded.
Another student's hand shot up in the air: "My big brother's a police officer and he doesn't shoot anybody."
The young boy, Robert, didn't have a brother in law enforcement – at least not in the traditional sense. His "big brother" was Ryan Brady, a detective he met through Big Brothers Big Sisters of America's "Bigs in Blue" mentorship program, which pairs law enforcement officers with children in at-risk communities.
Robert's defense of police officers that day was quite the contrast to his initial reaction to Brady and other Roanoke PD officers when they visited him and other students for the first time.
"The kids saw us walk in in uniform, and were almost scared," Brady said. "They didn't want to talk to us, they were shy, they didn't hear very good things about the police beforehand. This may have been their first face-to-face contact with an officer outside of police responding to some type of issue in their neighborhood or even their home. When I met Robert, he didn't know how to open up or what to expect. So I think there were a lot of questions about how this would go."
THE FACE BEHIND THE BADGE
Brady, a six-year veteran LEO who currently serves as a city detective and on a federal task force for combating violent crime, was inspired to sign up to be a big brother a few years ago while he was still working as a street cop.
"I worked in a part of town that was riddled with crime and dilapidated," Brady said.
The detective faced a challenge most cops encounter in rough neighborhoods: a community deeply concerned about the crime occurring around them, yet hesitant to reach out to the officers there to combat it.  Whether that hesitation stemmed from fear of law enforcement or pressure from criminals to keep quiet, Brady struggled to connect with the community members in his beat.
 "While you go on patrol and you feel like you're doing a great job and you're helping people, it felt a little bit lacking," Brady said of his difficulty in truly connecting with the public. "You wanted to do more but you didn't really know how to do it."
Brady saw Big Brothers Big Sisters as the solution to that problem. It was an opportunity to get to know the children in his city - and by extension, their families – at a deeper level than what an interaction on patrol would allow. Initially, Brady met with children from rotating schools in the area for about an hour each week – one of two mentorship programs the department is involved in through Big Brothers Big Sisters. Officers and other participants build relationships with the kids through activities like shooting hoops or helping them with their homework. From there, officers can choose to sign up for "Bigs in Blue," the one-on-one mentorship program geared specifically toward cops.
It was in the group program that Brady first met Robert, who loved to draw and wanted to design footwear when he grew up. Their mutual appreciation for drawing was the first step in breaking down the walls and building a friendship. They spent their time drawing shoes and comparing designs.
As they got to know each other, Brady discovered Robert had some behavioral issues and trouble with his grades. He had a stable home life, but growing up in the same tough neighborhood that Brady patrolled was a struggle.
"There's a lot of violent crime, a lot of narcotics issues in that area," Brady said. "It's a neighborhood where you see a lot of youth influenced by people who are older than them with criminal records that are trying to pull them into that lifestyle. It's a lot to be exposed to at a young age. I've had times where Robert's called me because they've [his family] heard gunshots one or two streets over. There are always sirens."
PLANTING THE SEED
Brady took Robert under his wing in a one-on-one mentorship. Like most young kids, Robert had a wide variety of hobbies and interests – from WWE to Yu-Gi-Oh.
"He can tell you every wrestler there is. I don't keep up with it as much but I try to stay up to speed so I can have conversations with him," Brady said, laughing.
Robert also had a knack for running. The two would often go out with a stopwatch and work on their times by doing sprints.
"He's a fast kid – and he knows that," Brady said.
And when Robert started expressing interest in baseball, Brady talked to the local little league team and got him a free spot at their baseball camp. Robert didn't have any equipment, so Brady reached out to his PD for help.
"I wanted to make sure we got enough for Robert so when he showed up at camp he wasn't feeling like he didn't have anything," Brady said. "The officers were great. They already give so much of their time through these community programs … to reach into their pockets and donate money or go pick up equipment from their homes and bring it in – in less than 24 hours Robert was decked out. He had a bag, bat, glove, hat, jersey, cleats – you name it, he had it. And he loved it."
As Brady and Robert continued to develop their relationship, the boy's grades began to improve. He was having fewer behavioral problems at school, and when an issue did come up, he was quick to reach out to his big brother.
A particular problem area – reading – was solved through an incentive program Brady came up with in collaboration with a Big Brothers Big Sisters educational support specialist. They kept Robert active in reading during the summer while he wasn't in school – which, as any parent will tell you, is a gargantuan task.
"He got a nice little payday at the end of the summer and he's since developed a love of reading," Brady said. "Big Brothers Big Sisters was able to get him a few of the first Harry Potter books. He's on the fifth one now – he's burning through those things on almost a weekly basis. That just goes to show you the teamwork between Big Brothers Big Sisters and the bigs can go a long ways."
A TRUE GUARDIAN
Brady sees the Bigs in Blue program as working on two levels. On the one hand, he's making an impact in a child's life – leading that person on a path to success despite difficult environmental circumstances. On the other hand, he's also planting the seeds for his "little" and other children in the community to view officers in a different way that what is often portrayed in the media.
 "We've all seen this – whether it's an actual increase or whether it's just an increase in media coverage of it – this animosity towards police and this distrust of law enforcement," Brady said. "The best way to go in and show these communities how trustworthy we are and the integrity behind what we do is to be a face in the community. With the kids in particular, you're planting a seed. And we won't be able to reap the benefits of what we're planting right now for a long time to come. But as these kids grow, they're already familiar with the police and they trust the police. They see you as a regular person. And as they get older, you gotta hope that will instill that piece of the puzzle that's maybe lacking right now with the distrust and the unfamiliarity with law enforcement."
And although Brady says the true impact of his work is something that he won't be able to determine for many years to come, there's already evidence that his role as a mentor is making a difference. When Brady experienced a house fire last year, he lost his entire home and his beloved dog, Remington.
Brady hadn't realized how close Robert had gotten to the dog until the fire occurred. During their weekly visit, Robert was down and had had some behavioral issues earlier in the day. The pair went out to play basketball to work through what was bothering Robert.
"He was doing fine," Brady said. "Then I turn around to chase the basketball and I turn back around and he was crying. So we went over and sat down and I asked him what was going on. He said, 'I miss Remington.' That was a big moment for us because he showed how invested he was in my life just like I try to be in his. It was a moment in our relationship where I said, 'We're brothers for life now man, you're my family. You're one of my brothers just like I would call my blood brother a brother. You hurt like I hurt, you're gonna have good days and bad days and I'm gonna have good days and bad days and we gotta be here for each other.'"
After the fire, Robert's family went to their church and started raising money for Brady's recovery.
"You're looking at a neighborhood that doesn't necessarily look kindly at police officers," Brady said. "I just thought it was a tremendous show of support for the officers that are working in their communities."
THE NINETY-FIVE PERCENT
Since he signed up for the program, Brady has witnessed first-hand the difference one cop can make in a community. When he meets up with Robert in the neighborhood he used to patrol, the kids who had previously been so scared or hesitant to speak with him now run up and give him high fives and hugs. 
"I investigate violent crimes," Brady said. "Being an officer, you see the worst of humanity sometimes. You're dealing with the worst five percent of the population ninety percent of the time, and it can really weigh on you. I didn't realize how much therapeutic value there would be in being with and seeing just how good people can be. It reminds you that these neighborhoods you're working – you're seeing the extreme negative things that are happening – you're coming in at the worst points of these people's lives. And having this opportunity to get to know Robert and his family and to come out in the community and go to his church and meet the other ninety-five percent of people – the good people – who you never really deal with much while you're out on the street,  it's refreshing. And it reminds you of why you're out there doing what you're doing."
For more information on how you or your department can get involved in Bigs in Blue, visit their website.