Campus police departments rebrand with a 'softer look'
School officials say the rebranding can help police appear more approachable and foster a stronger campus community
---
By Suzie Ziegler 
LANCASTER, Pa. — In 2020, after a summer of civil unrest, Franklin & Marshall College announced that its campus police officers would be getting a "softer look." Administrators hoped that the officers' new uniforms would improve student relations, officials said. 
"I wanted to soften the look of our DPS officers as a way of looking less militaristic," William McHale, associate vice president for public safety, said in a press release. "I want our officers to look more approachable, so our community is more at ease when interacting with DPS officers."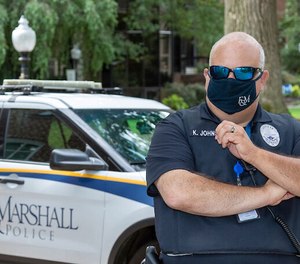 Instead of traditional police uniforms, officers now wear khakis and polo shirts. Campus police also removed the light bars from squad cars. 
Franklin & Marshall isn't the first institution to have this idea, reported Inside Higher Ed. In 2017, Central Washington University changed its campus police uniforms to cargo pants and polo shirts and replaced metal badges with a sewn-on version. CWU cruisers are currently in the process of being repainted in the school's colors. 
CWU Police Chief Jason Berthon-Koch said the changes came from conversations with students. 
"They had some comments and some concerns about the traditional-looking police uniform causing barriers for some underrepresented students to report and feel safe," Berthon-Koch told Inside Higher Ed. "So, with that, we made the decision to listen to our community but also to respect the officer's ability to do their job." 
[RELATED: Harvard University closes police substation after faculty, students complain]
McHale says officers still have all the tools they need to do their job. For example, officers still wear ballistic vests, but now the vests blend in with their uniform better, according to the report. 
"Officers are well protected, but they don't look like they just crawled out of a combat zone," McHale said. 
Berthon-Koch acknowledges that new uniforms are not a quick-fix for building student-police relationships. 
"Changing the uniform is not going to create instant community trust," Berthon-Koch said. "That's a step that I think a lot of people need to understand, especially in leadership positions. We, as chiefs, can talk about community policing, we can philosophically debate it, but until you actually walk the walk, you don't make a change." 
McHale stressed the importance of listening to the campus community. 
"In today's environment, I think we need to be able to be progressive, listen to our constituents and abide by their wishes if it's possible," McHale said. "And I think it's a win-win in this case."