SHOT Show 2016: 3 standout products from Vortex Optics
The folks at Vortex have stepped up their game for 2016
---
The folks at Vortex have stepped up their game for 2016. From Red Dot sights to long range scopes, new reticles, new combinations and new ideas are sure to please even some of the most diehard optics users. I looked at a variety of their offerings and I was pleased with what I found.
Particularly intriguing was their new 6-24 x 50mm FFP AMG long range scope made entirely in America. That's right, entirely in America. Most of the major scope manufacturers have at least a portion of their scopes, particularly the glass, done overseas. This particular scope departs from their high-end 4.5-27 x 56mm by weighing over 20 ounces less! Orders for this particular scope are already coming in fast and furious and this product will be hard to come by for at least half the year. Look for more made totally in America from Vortex in the future.
On the red dot side, the new SPARC AR is geared to the AR market and is similar in size to the Aimpoint Micro-dot sight. With a length just under three inches and a weight around 7.5 ounces, this sight won't take up much real estate on your receiver. Battery life is listed at 5000 hours at minimum setting and 300 hours on maximum. It has a simple two MOA dot without a lot of needless clutter in the reticle.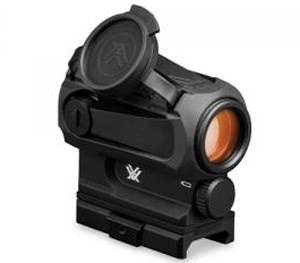 Also worthy of note were the new RAZOR HD LH riflescopes. The LH stands for "Light Hunter." More hunters are finding value in leaving the heavy tactical scopes behind when they start "going vertical." These are 1" tubes and are available in 3-15 x 42, 2-10 x 40 and 1.5-8 x32 and weigh 16.5, 15.4 and 13.4 respectively - almost a pound less than my Nightforce 3.5-15 x 50mm. They have a couple of MOA-based reticles to choose from to allow for longer range shooting. The turrets are nice and low and the lines of the scope are simple and clean. Sometimes, less is more. Price points are $1099 for the 3-15x, $999 for the 2-10x and $949 MSRP for the 1.5-8x.