SHOT Show 2016: Benchmade and Mesa Tactical make tried-and-true products more affordable
These products remain high quality without breaking the bank
---
Here is a trend that I really enjoyed at SHOT this year: Several manufacturers have taken tried-and-true products and made them more affordable while maintaining their high quality.
Take Mesa Tactical, a company that manufacturers firearm accessories. This year, they introduced their SureShell Shotshell Carrier, an extra cartridge holder that rides on the side of a shotgun receiver. Traditionally they are made of aluminum. This one is made of durable, impact resistant polymer. It is lighter, has similar strength characteristics, and is remarkably cheaper than the aluminum version.  Designed for simple installation, this product is the way to go for the "gauge carrier."
Benchmade has done something similar with their 14430 Patrol knife from the HK line.  This is an auto with a 3.40-inch blade that comes with a combination edge (14430S), black or black with serrations (14430SBK). The latter screamed "pick me, pick me" each time I picked it up.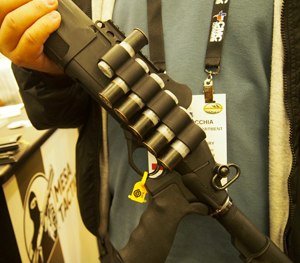 This is a spear point knife, which is a more useful shape for the patrol officer. Benchmade usually offers auto knives with spine-mounted safeties. This one is side mounted, right below the fire button. It allows the officer quicker access and greater control. Coupled with the generously textured scales, it is one of the best vest knives I have seen all year.
Here's the kicker: the MSRP is $160.  I think I would have put a TBL right on the scales. Benchmade knocked it out of the park with this knife.