SHOT Show 2016: Sig Sauer ASP models feel and operate like the real thing
In addition to being just plain fun, these compressed gas guns have excellent training value
---
I got a chance to shoot the new pellet carbines and pistols from Sig Sauer, and in addition to being just plain fun, they also have excellent training value.
Just about everyone is familiar with Sig Sauer MCX, their short stroke carbine that has controls like the AR-15, but improved handling and characteristics. The MCX design is an adaptable weapons system, allowing users to add suppressors, change barrels, stocks and even switch calibers. Sig Sauer has added to the inventory with the Sig MCX ASP. This is a semi-automatic 30-round air rifle that fires .177 pellets up to 750 fps. It looks, feels and operates like the real thing, but uses CO2 to fire pellets. The MCX's suppressed configuration carries over to this new model. It is available with an MRD or scope package. Sig Sauer has also duplicated the weight and balance of the centerfire version.
It's not exactly a toy. In fact, Sig Sauer has cloned the P226, MPX and the P250 into compressed gas guns with the ASP designation. The pistols have metal slides that blow back when fired and the controls operate like their parent counterparts. Their dimensions are such that the copies would likely fit in the real gun's duty holster, depending on the configuration.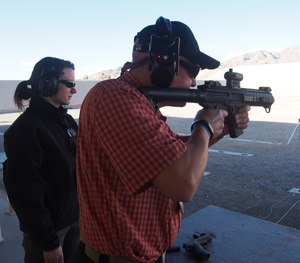 I am a big gas propellant gun fan –  these are high quality products.  The pistols can drive pellets a little faster than 500 fps, while the carbines will do 710 fps. If they are used as training devices, the guns will behave close to the real thing, including the pellet/bullet impact. The pistols use standard CO2 cartridges. The carbines use the larger prefilled CO2 cylinders. One can get a lot more shots out of the 90gCO2 cylinders for the carbines. 
I have one question, though: The P320 is the hot product right now. After all, Max Michael uses one – a completely stock model, in fact. Why isn't there a training version of it?
Using these gas propellant guns as training devices is a sound training integration, provided the training uses the products realistically. For example, the pistol magazines do not look like the real ones. Don't conduct magazine change practice with them. However, they are great for drawing and engaging and range maneuver practice.
I guarantee that every officer who carries the real thing will want to get one of these for their kids for teaching proper firearms safety. I think my son wants one too.