SHOT Show 2018: 3 trends at Industry Day at the Range
The handgun trend that stood out is a renewed effort to make pocket-sized guns better
---
Hello from SHOT Show 2018! My fitness tracker tells me I walked more than six miles on the range today. Take a stroll with me and I'll tell you about three trends I identified during Industry Day at the Range.
1. Industry Day had smaller guns
Obviously, I shot dozens of guns. The handgun trend that stood out is a renewed effort to make pocket-sized guns better.
I shot Springfield Armory's 911, a 6+1 (7+1 extended magazine) 2.7-inch barreled, .380 single action handgun. Even though it weighs 12.6 ounces, I was able to rapid fire into a steel torso at about five yards without any effort at all. For a 5-inch long gun, it could likely outscore some full-sized ones.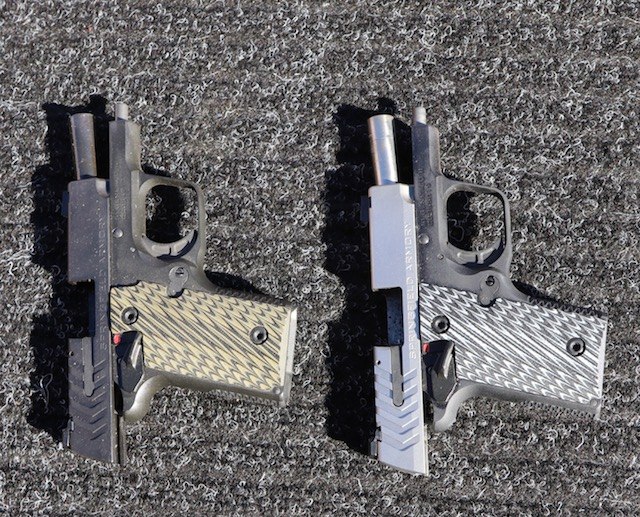 Rob Leatham, one of my favorite pro shooters, told us that he likes single-action guns with manual safeties. Many gun companies have solved the concealed carry safety issues by making heavy double-action guns. Leatham said, "I need a gun I can shoot well."
The Springfield shoots well indeed. It has one of the best single-action carry triggers out there, with an incredibly fast reset. The important part is that the low-profile safety is a little deeper and more tactile than similar products.
The Springfield 911 comes with an aggressive texture on the mainspring and Ameriglo Pro-Glo sights.
Yes, I shot SIG's P365. Yes, it really does hold 10x9mm rounds, and even 12 with an extended grip mag. Yes, it still sort of felt like a single stack. It really is "pocketable" and it really shoots like a SIG.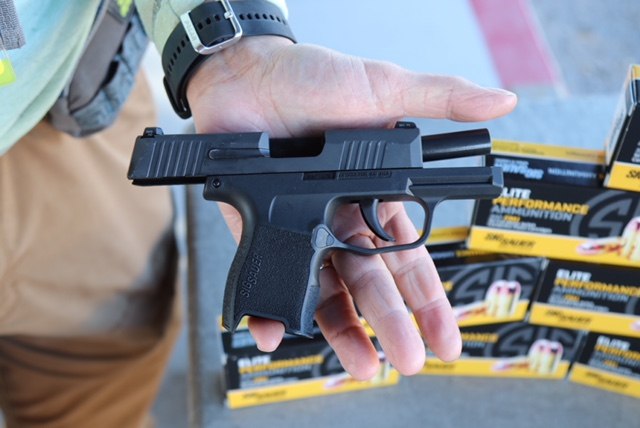 I discovered the Honor Guard 9mm. It is one of the least expensive and most modular of the small guns. All of the parts and processes are American made and designed. Honor Defense guns are built by veterans.
The Honor Guard 9mm uses a modular chassis concept so the chassis can be put into a number of different sized and colored grips. The subcompact is 6.2 inches and weighs 22 ounces. It has law enforcement friendly enhancements like "backwards" rear sights designed for one-handed racking, and a choice of a manual safety and completely ambidextrous operation.
For a striker-fired pistol with all fire control operations within a steel chassis, this gun had a very reasonable trigger. I shot more than my share of magazines through this gun (no one was waiting to shoot it) and really got to try it out. Gary Ramey, president of Honor Defense, showed me a chassis with approximately 10,000 rounds through it. It looked like the new ones.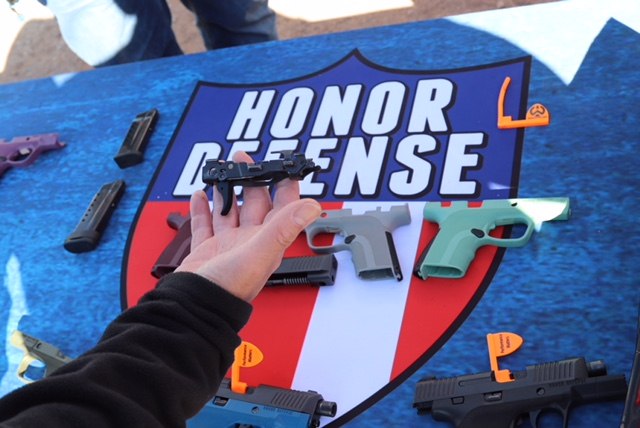 The MSRP for the Honor Guard is $499. It generally is available for cheaper. Ramey listed several agencies that have approved this gun for BUG or off duty, which included some very close to me.
I liked many of the guns I tested, but the Honor Guard is the one that stopped me in my tracks.
2. Industry Day was quieter
Gemtech had its INTEGRA, a 300 Blackout integrally suppressed full auto rated upper. This is a 6A14V titanium system in a 10 inch barrel with a 128dB rating. Here's the thing: If you have ever used a suppressed AR platform, you'll know that the dirty stuff gets blown back at the shooter. Not only did this system minimize fouling, it kept pretty clean while running. For a law enforcement entry tool, the INTEGRA is quite useful.
Everyone knows I have a thing for air-propelled projectiles, and air is relatively quiet. I got to shoot the Umarex USA Hammer, the most powerful PCP (pre-charged pneumatic) air rifle of its kind, which places it high on my want list. The Hammer uses a 24 cubic inch carbon fiber cylinder to sling a .50 caliber, 550 grain lead slug at a muzzle velocity of 760 feet per second. It can fire a 250 grain slug at over 1,000 feet per second. It can put three slugs within an inch at 50 yards.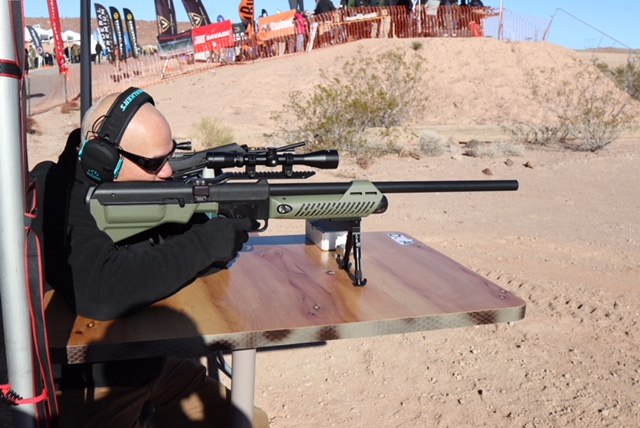 Designed primarily as a hunting device, I want one to mow down steel rams. The Hammer looks like an oversized military tool, complete with an AR-style grip and top rails. It is pure air muscle.
3. Industry Day had real police tools
US C-SOG, a full-time NGO who specializes in Corrections Special Ops Training, demonstrated outstanding K9 discipline in high-risk activities. This is one of the coolest live demos I have seen at SHOT Show Media Day.
Ring Power Tactical Solutions had The Rook on the range, and I got to drive it. I have photos and vids to prove it. The Rook is a Cat chassis-based tracked vehicle that uses quick change attachments like an armored deployment platform and a hydraulic breaching ram. The cab is NIJ Level IV, so it can drive right up to the tactical situation and, depending on the need, transport (and insert) officers, breach the door or wall, deploy officers to an upper level, or remove fortified obstacles. All of the tools can be raised high above the cab level of The Rook.
The Rook already has successfully taken its share of small arms fire, which is very comforting.
The Rook had a very shallow learning curve. In fact, sales manager Shaun Mitchell just pointed out some of the controls and told me to try it out. There I was, driving around a piece of equipment designed to get the good guys in and out safely. After my test drive, Shaun told me, "You know, when The Rook is played, it is checkmate!"