3 products at SHOT Show for those wired for 24/7 tactical thinking
A "bumper protection" boot, a nonincendiary distraction device and a less lethal side saddle
---
Hello again from SHOT Show! This year's show has been incredible so far. If you are a non-law enforcement reader, this update is not for you. Today I have been looking at products that I think will catch the attention of my favorite people: Those who have their brains wired for 24/7 tactical thinking. Here we go.
Lowa Boots Zephyr MK2 GTX
Lowa Boots have been around for a long time. In fact, it has been 100 years. For uniform use, the company took its experience to put the best qualities into a duty boot.
The standard features of this model are the things that patrol boots have to have, like Gore-Tex and hydrophobic leather. The outsoles are slip and oil resistant. They are grippy and look like they release mud and dirt fairly well. The laces have a two-zone locking feature. The seam areas are not at the flex points of the boot or the foot. They are lightweight, and the Double Injection DuraPU midsole offers shock insulation between the world and the foot.
It is the extra stuff in this boot that makes it great: There is a molded external stiffening feature called the Monowrap Stability, which also makes the boots look very cool. It is a polyurethane material that surrounds the exterior of the boot like an exoskeleton. It accomplishes the purpose of stability, which reduces injuries and fatigue, but adds "bumper protection" to the wearer. This additional side protection for the foot can be the difference between a really good laugh and a battle injury. Additionally, there is built-in instep protection for fast roping.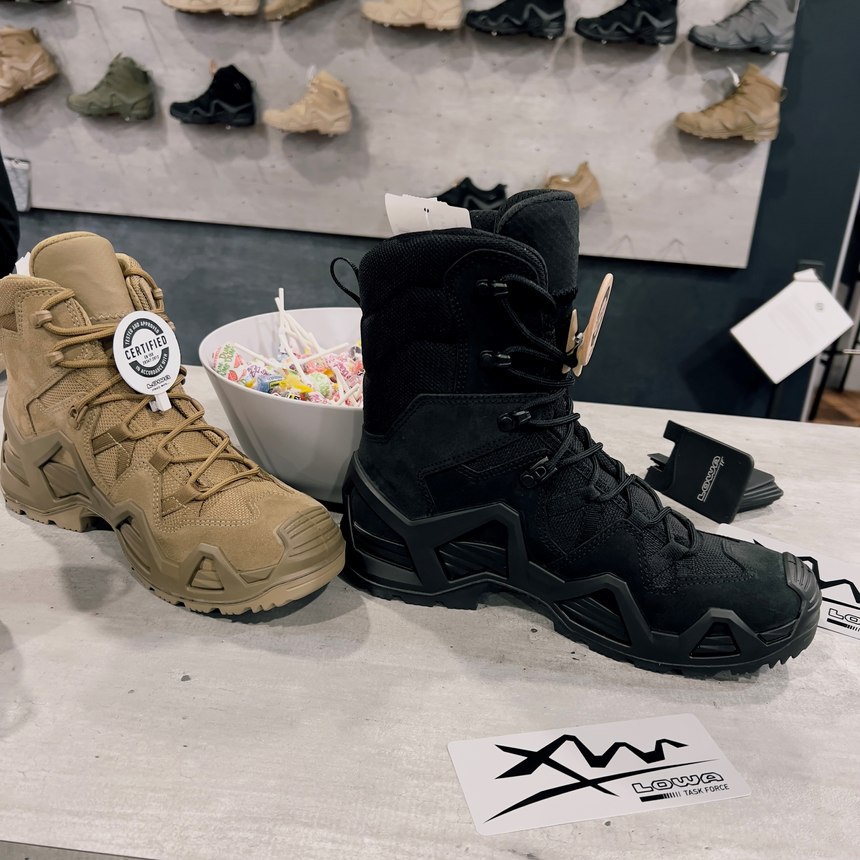 Lowa Boots, you shoulda' talked to Lindsey before you came to SHOT. Let me encourage you to make them in contrasting colors. You know, Monowrap in desert, upper in coyote. Oh, and thank you for making them in wide widths.
These are great boots, and they come in low, mid and high configurations.
For more information, visit https://www.lowaboots.com/.
PAVASHOT NPDD
I was walking around the floor when I found the guys at PAVASHOT demonstrating the NPDD, Non-Pyro Diversionary Device. OK, they didn't exactly fire one, but I got to see how it worked. This is a spoon-actuated, nonincendiary distraction device that can distribute any fine dispersion payload into a blast radius of 7 meters.
The NPDD uses a large nitrogen cartridge that quickly inflates the payload bag, once deployed. The bag bursts and the device also delivers a distraction sound of 177+ db.
Law enforcement agencies, you need to check out this tool. Since it uses nitrogen, it can be deployed in less stable environments. Also, it does not share the same restrictions as blast devices. Storage is easier, and the device is reloadable and reusable. My guess is that it has a shallower training curve as well.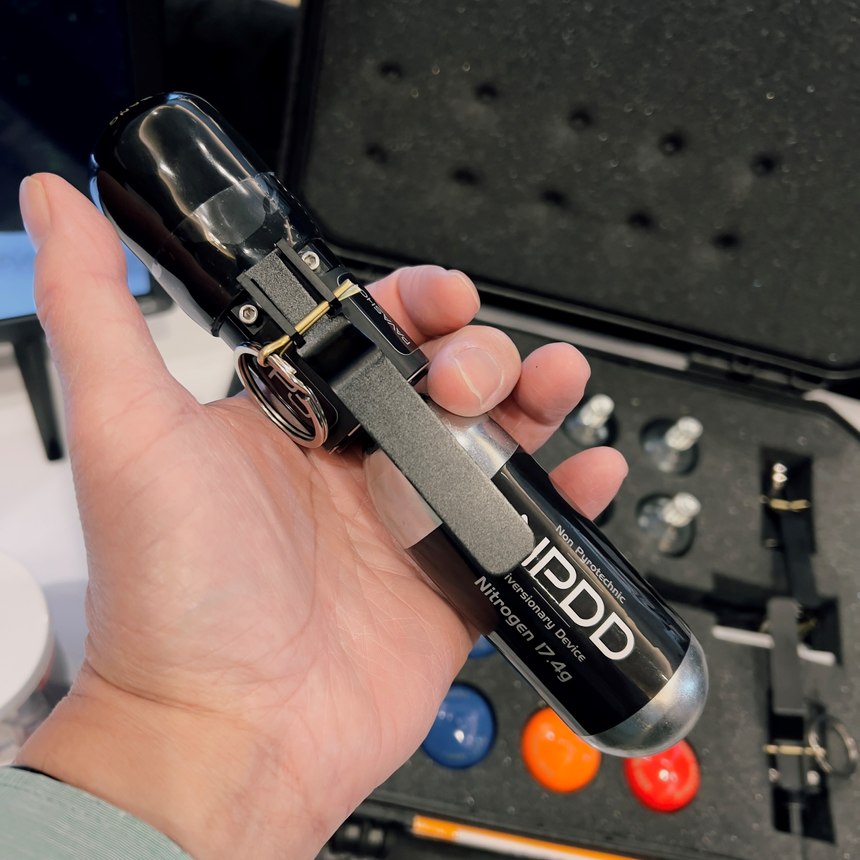 For more information, visit pavashotinc.com.
Hurricane Butterfly Side Saddles
As I was cruising the booths, I noticed an accessory that made me say, "I wish I'd thought of that!" Hurricane Butterfly, a stocking dealer for less lethal tools, had a CTS (Combined Tactical Systems) 40mm launcher on their counter. On the side of this launcher was a side saddle that held an extra 40mm round. They make them to mount on any Picatinny rail, and it can be mounted horizontally or vertically. There is also a 2 round version. Why didn't I think of that?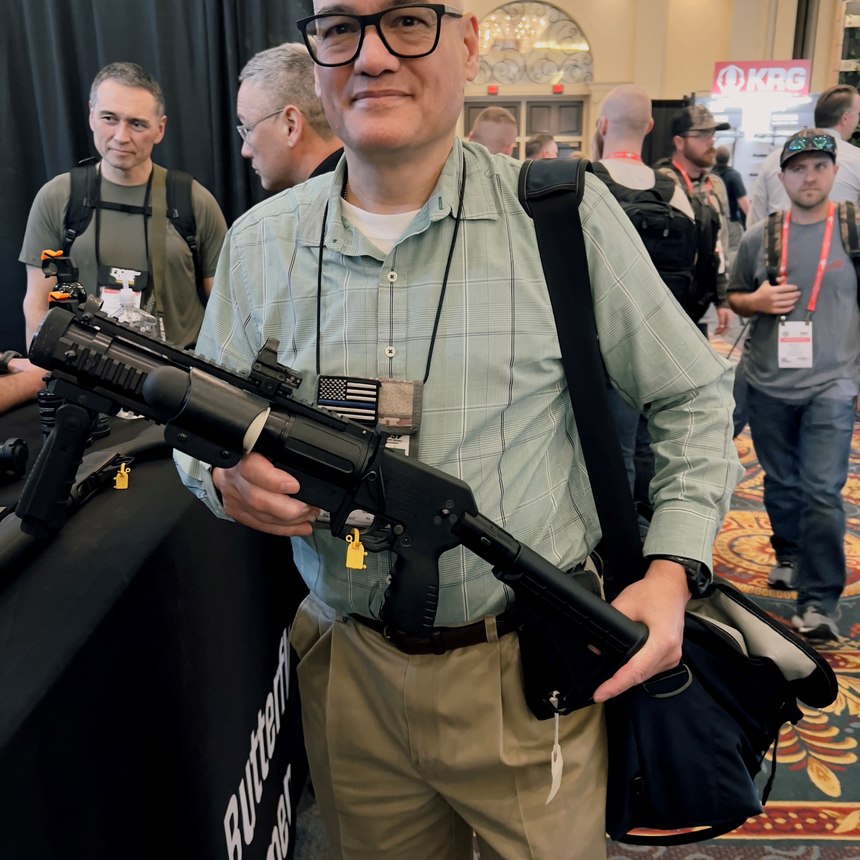 For more information, visit https://hurricane-butterfly.net/.
It's Friday. Another SHOT Show is in the books. I have dozens of products to write about, and a long drive ahead. If I didn't shake your hand or give you a hug at the show, please accept my virtual equivalent. It was good to see old friends, and good to meet new ones. I'm looking forward to next year already.