9 cool products from SHOT Show range day
Attendees get hands-on testing of the latest firearms, ammunition and related accessories at SHOT Show's Industry Day at the Range
---
Whether you are looking for firearms or accessories, SHOT Show's Industry Day at the Range is the place to be. Here is a roundup of items that caught my eye this year.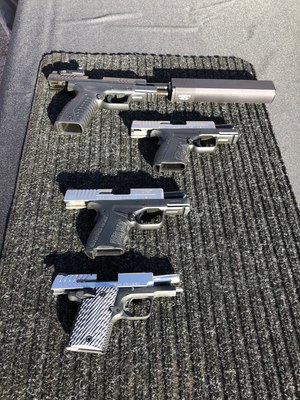 SPRINGFIELD ARMORY'S Series 9mm and .380
Springfield Armory's 911 .380 is built on a lightweight 7075-T6 snag-free aluminum frame with a black Nitride or stainless 416 steel slide measuring 5.5 inches long, less than 4 inches high and weighing 12.6 oz. Front strap and mainspring checkering plus G10 thin-line grips and a short-reset, 5-pound trigger with a Hogue G10 trigger shoe make this new pistol easy to shoot. The 911 comes with Ameriglo Pro-Glo sights and a flush 6-round and 7-round extended magazines. MSRP for the base model is $599.00 and 10 different models are available, including some with an integrated green Viridian grip laser.
Its 9mm big brother is 5.9 inches long, less then 4 inches high and weighs 15.3 ounces. It has near-identical features and comes in five versions, with the entry-level model MSRP at $659.
ST Engineering SAR21 5.56 bullpup assault rifle
This Singaporean company supports its country's military with products in the aerospace, electronics, land systems and marine sectors. The SAR21 rifle offers high firing accuracy with a built-in laser, 1.5x optical scope and backup iron sights. Weighing in at 12 pounds, it is more compact than an equivalent M16 and provides excellent maneuverability even in tight spaces. It is designed with minimal components for easy assembly, disassembly, cleaning and maintenance.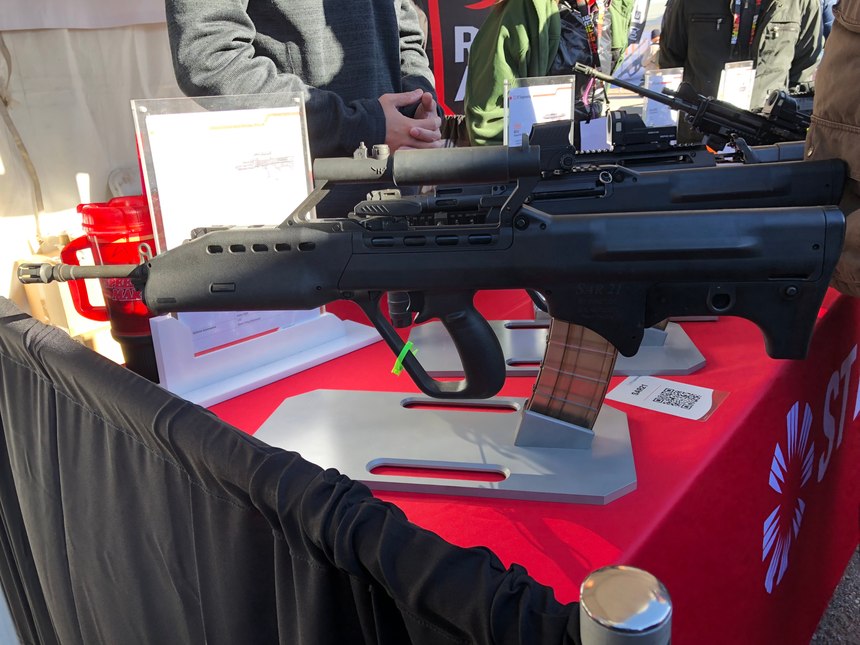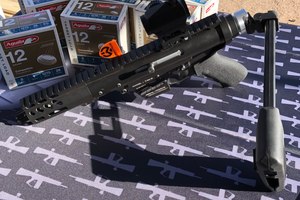 Sol Invictus TAC-9
The key selling point of this Florida-based company's firearms is the use of standard Glock mags. The TAC-9 is a modular system that supports 9mm, .40cal, .45ACP and 10MM. It comes in pistol or carbine with an overall weight of 6-8 lbs. and lengths from 14-26". It is available in different barrel lengths and arm brace configurations and is equipped with a full-length Picatinny rail for mounting iron sights and optics. The photo shows the carbine with the stock half folded.
FAB Defense
FAB Defense develops and manufactures cutting-edge tactical equipment and weapon accessories for the State of Israel's military and police. Pictured is a heavily-customized Springfield Saint platform with FAB GL-MAG collapsible stock, AGR-43 rubberized pistol grip and the FAB AR-Podium. The AR-Podium is a unique quick-release bipod that mounts to the magwell and grip, leaving valuable rail space free for other accessories. The stock and grip are available separately, while the AR-Podium comes paired with the grip. The key advantage of the lightweight reinforced polymer composite Podium over a front-mounted bipod is that the operator has a substantially higher range of motion available to him or her because of the pivot point. When prone, it is near impossible to fire above the operator with a bipod, but not so with the AR-Podium. It can be deployed with the main shooting hand, without having to alter the grip on the weapon or lose sight of the target.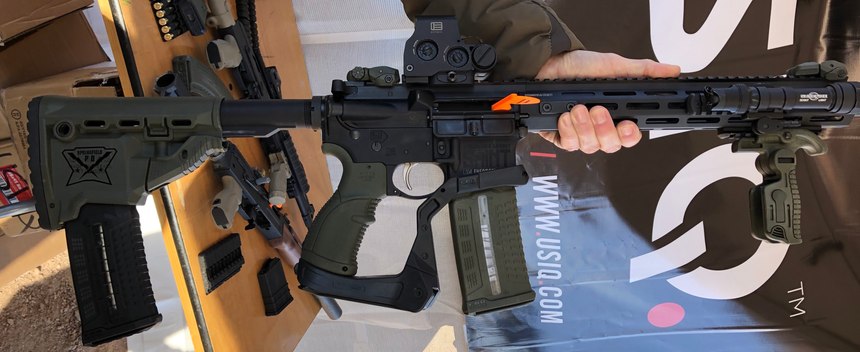 While every officer should be grabbing extra mags when they deploy their patrol rifle, sometimes they forget, or don't have the time. With the GL-MAG stock on their rifle they always have an extra mag with them because it is inserted into the stock ready to be swapped into place.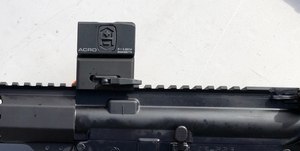 Aimpoint ACRO P1
Aimpoint's Acro P-1 is the smallest enclosed system on the market and is built on a modular platform. Mounting plates are or will be available for all popular platforms such as Glock MOS, Sig, FN 509 and so on. A Picatinny plate will also be available, thus allowing the P-1 to be mounted on most pistols and rifles. Once the appropriate plate is mounted on the firearm, the P-1 mounts to it via a flush-fit cross bolt that uses a T25 Torx screw. The P-1 is night vision compatible. I was hitting steel plates in rapid fire at 60 yards from a pistol equipped with the Acro at range day.
In-Ear Hearing Protection
Over-ear muffs provide a lot of hearing protection, but sometimes (often?) get in the way, and of course they can't be worn all the time. There are a handful of articles online that describe potential hearing loss due to the use of sirens and in this Police1 article, Joseph J. Kolb discuss the use of in-ear protection for officers in the field.
Peltor, part of 3M, offers the rechargeable TEP-200 Tactical Digital Earplug powered by three AA alkaline batteries or a Micro USB cable. The TEP-200 tactical earplugs can either amplify or attenuate sounds depending on how loud they are, thus enhancing and protecting the wearer's hearing. The standard tips provide a noise reduction rating (NRR) of 23 dB, while optional 3M Skull Screws Eartips provide a NRR of 30 dB. List price is $399.
Another manufacturer offering rechargeable earplugs is OTTO. Its NoizeBarrier Micro is similar in size to the Peltor product, but offers an enhanced hearing mode in addition to the standard mode. In either mode the earplugs provide up to 40 dB of protection from loud impulse noises and up to 15 dB of adaptive noise reduction. List price is $399.
If you want custom-molded electronic earplugs, Westone has several models available in its DefendEar Digital line, which the company claims offers increased situational awareness. While pricey at just over $1,200, many people think that custom molds are more comfortable to wear for longer periods of time. Westone also offers the non-custom, replaceable battery in-ear DefendEar Shooter for $399.
See more SHOT Show coverage from Police1 here.