SHOT Show 2014: Lenco Armored Vehicles offer serious protection
The Lenco BearCat models can safely transport between 10 and 12 operators
---
At SHOT Show 2014, I got the full tour from Lenco of their BearCat Armored Vehicle line. There are several models available, from the BearCat G2 to G4, whose model designations include different cupola options and equipment packages.
These are mission-specific armored vehicles built on heavy truck chassis in 4WD configurations. They come in two- and four-door variants and can include a hydraulic ram, LRAD crowd control, and a custom-configured console area.
Two things surprised me about the Lenco Specs on these vehicles. First, they are much more maneuverable than I anticipated. Second, the armor can defeat 50 BMG.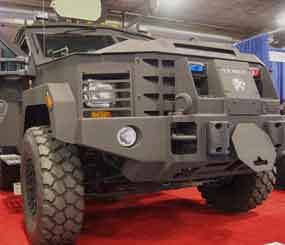 Having shot a lot of M2 in my lifetime, I asked, "90 degrees, or oblique angle?"
"50 BMG, direct hit, head on," was the reply.
They also offer a degree of AP threat reduction.
Now that's protection. The Lenco BearCat models can safely transport between 10 and 12 operators.