The drones are coming – and they can save your life
Drones were the hot item at SHOT Show this year, with both UAVs and accessories on display
---
A key attraction at SHOT Show every year is the Law Enforcement Education Program (LEEP), which features presentations on the application of technology and training methods, and the latest strategies for successful response and engagement on scene. As part of the session titled Counter Ambush: Care Under Fire, the use of drones for surveillance, tracking and delivery of materials was addressed.
Before former military and law enforcement officer and trainer Mike Briant turned the session over to unmanned aerial vehicle (UAV) pilot Matt Sloane, Mike described and demonstrated the many ways that body language can tell you a perp is about to attack, how to mitigate that attack and, most important, how to counterattack to put them off balance and allow you to make space before drawing your weapon. Police1 columnist Dick Fairburn discusses counterattack and the overwhelming use of force in this article.
Element of surprise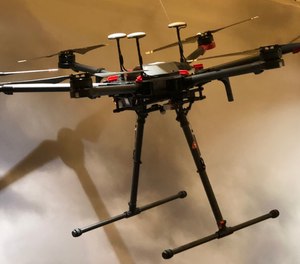 One big advantage of an unmanned aerial vehicle (UAV) is that it works in three-dimensional space, giving you a high vantage point and the advantage of surprise. UAVs are significantly smaller and quieter than helicopters, and some newer drones are quiet enough for them to get lost in background noise.
Just like an officer should have their choice of firearms (pistol, shotgun or patrol rifle), a well-equipped UAV pilot should have their choice of drones, or if the budget doesn't allow for that, a set of accessories that are suited to the mission at hand.
For surveillance and tracking, UAVs can be equipped with powerful fixed or steerable lights and/or thermal cameras. Some drones, like the dji Mavic 2 Enterprise Dual, come with a built-in FLIR MSX thermal camera, while other UAVs can be equipped with after-market cameras. With the use of built-in GPS, real-time tracking software and remote video connections, your officers on the ground can be directed to a suspect from multiple directions, easing capture. In fact, the Chula Vista Police Department in California is testing out a "drone as a first responder" model. Under FAA's UAS Integration Pilot Program (IPP) program, the agency is flying the UAV from the roof of their  911 center building directly to a call – even if the drone travels out of the pilot's visual line of sight. A UAV can also be used during special events and mass gatherings to watch for suspicious activities.
How drones facilitate remote delivery of equipment and supplies
Another application of UAVs is to deliver a payload. Matt demonstrated how even small UAVs such as the Mavic 2 can deliver a tourniquet, bandages, keys, a cellphone or a mag full of ammo. The item can be attached with Velcro or delivered by dropping it from the UAV while it is flying by using a device such as the Drone Sky Hook. Larger UAVs, such as the Matrice 600 Pro can carry just over 13 pounds for up to 18 minutes.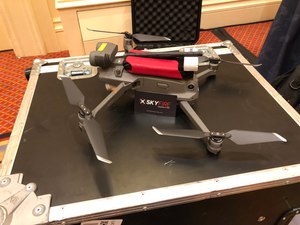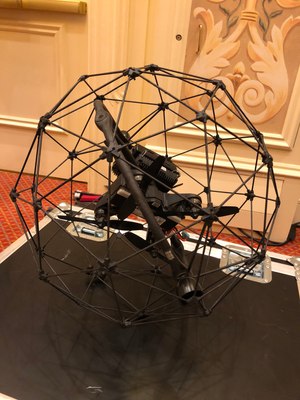 UAVs also can be used indoors, with the proviso that the pilot is well-practiced, and the UAV has propeller guards to keep it from causing injury. A UAV such as the Flyability Elios might be a good choice if your budget allows for mission-specific drones.
Idan Peretz, former head of the Israeli Defense Force rescue and climbing instruction unit, has an interesting take on using UAVs for law enforcement and the military. Idan founded Highnovate to both build equipment and train users. Idan designed strong, yet lightweight, components that allow a UAV to safely and discreetly place climbing/rappelling hooks and a tag line that can be used to pull the rope into place.
Two products are the Bella and Mini-Bella, which differ in size and capacity. The Bella is a two-piece device. The female is attached to a hook or another type of mount and the tag line is routed through it and secured to the male piece, which is attached to both the tag line and the rope and left on the ground. After the hook is secured by the UAV, the operator reels in the tag line, which pulls the male part along with the attached line into the Bella, where it locks into place. The Mini Bella weighs just over 5 ounces (yes, ounces!) and is rated to support 1,700 lbs. The Bella doesn't weigh much more and can support up to 2,800 pounds. Many other products are available, including building ledge anchors and climbing/rappelling quick disconnects, with all built in the USA.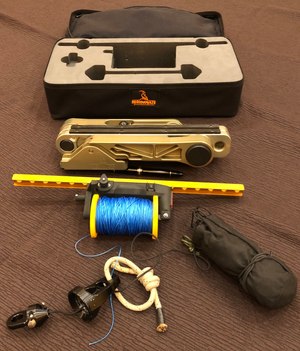 Working with a partner, Highnovate will soon announce an autonomous UAV delivery system that lets the operator point at where they want the UAV to fly, and a machine-learning vision system will get the UAV there safely – even if it needs to fly through openings such as those found in some steel bridges and electrical towers.
Too many cooks…
What if your problem is illegal UAV activity? Ideal Blasting Supply was showing off the dji AeroScope in the NEXT Pavilion. The AeroScope can detect, identify and monitor dji UAVs. Since dji UAVs are estimated to make up two-thirds of civilian drones globally, this is still the vast majority in the air. The AeroScope monitors and analyzes the UAVs' electronic signals, allowing site owners and law enforcement to protect the integrity of flight-sensitive environments. Mobile and stationary units are available, each of which can cover a radius of up to 12.5 miles. In effect, it is a license plate reader that provides law enforcement with the data required to be able to quickly and effectively protect against UAV intrusion.
By intercepting the communications link between a UAV and its remote controller, AeroScope is able to track real-time identification information including UAV serial code, make and model, position, speed, latitude and ground controller location. This allows the operator to take mitigation action against the threat and at the same time dispatch officers to apprehend the pilot.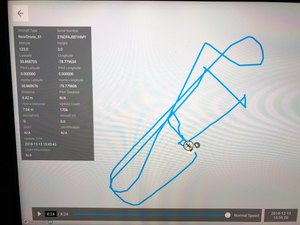 Transportation
Before you can deploy your UAV you have to get it to the launch point. Smaller UAVs fold down, but larger UAVs need to be disassembled for transport and assembled for flight. Pelican just announced a set of UAV cases for larger drones which can carry them nearly-assembled for quick deployment. Unlike their previous line of cases, the new ones are UAV-specific with cutouts for the UAV and all of the accessories needed to fly it.
UAV pilots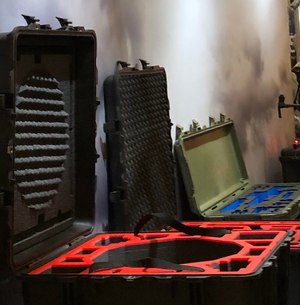 While toy UAVs are available almost everywhere for a few tens of dollars, professional UAVs start at around $1,000 (the Matrice 600 Pro is $5,000 before accessories) and are easily damaged or lost if piloted by an untrained individual. Our LEEP session demo pilot, Matt Crow, is licensed under Part 107 by the FAA (USA Federal Aviation Administration) to fly UAVs under 55 pounds. The exam is similar but not as extensive as the one used for piloted aircraft. Matt had to learn how to read aeronautical charts, how and when he can fly in controlled airspace and much more before he could fly as a licensed pilot. To fly larger drones, Matt needed an exemption under the FAA special authority for certain unmanned systems. Additional exemptions are needed to fly at night or over people. More information is in this Police1 article.
Before your agency budgets for a UAV, you also need to budget for initial training, certification and recertification of your pilot(s). You need to run your UAV program the same as you would run any specialized program with specific training and equipment such as your designated marksman program or SWAT team. Remember your pilot may not be on shift or could be on vacation – so that means you need more than one.
Click here for more information about the use of UAVs in law enforcement. For more SHOT Show coverage, visit https://www.police1.com/shot-show/.