Why LE should keep the lethal shotgun
Forcing a patrol officer to choose between a carbine or a shotgun is like asking a carpenter to choose between his drill and his hammer
---
There's a disturbing trend that seems to be gaining popularity in law enforcement that we need to address – many agencies are transforming their entire inventory of 12 gauge shotguns into less-lethal tools.
There are several reasons why agencies are converting their shotguns to less-lethal only. While some of these are understandable and well-intentioned, I think it's unwise to neuter the shotgun and would like to explain why.
Why less-lethal?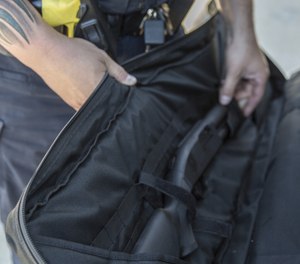 The move to turn shotguns into less-lethal-only tools is the result of a convergence of two trends in law enforcement.
First, the move to adopt patrol rifles in the last few decades left many agencies questioning whether or not the shotgun was necessary as a lethal force option. Many officers believed that the patrol rifle was capable of doing the jobs that were handled by the shotgun – plus some jobs that it could not – so it was a good substitute for the smoothbore. In fact, many patrol rifle proposals specifically called for the new rifles to replace the shotgun, which helped to justify the cost of the new guns to budget-conscious agency and civic leaders.
The next trend was the growing recognition that patrol officers needed access to extended range, less-lethal tools. Options like pepper spray and conductive energy weapons gave patrol officers added capabilities, but were ineffective beyond short ranges. The strong desire for a less-lethal tool that offered some standoff capability for patrol officers motivated agencies to search for options. Unfortunately, it soon became evident that the options offering the most capability were cost prohibitive, while some of the affordable options were of dubious utility.
Since the recently-surplussed shotguns were capable of firing less-lethal munitions, it seemed like an excellent idea to dedicate them entirely to the less-lethal role. By repurposing equipment that was already in inventory, an agency could affordably fill the extended range, less-lethal gap without significant acquisition or training costs. The move looked like an elegant solution, and the idea caught on with agencies across the country.
Apples and oranges
The problem with this solution is that some of the assumptions were bad from the start.
First, while the shotgun and the patrol rifle (actually, the patrol carbine in most cases) share some commonalities because they're both long guns, these two weapons have very different strengths, weaknesses and capabilities. These differences are significant enough that neither weapon is a good substitute for the other, and any attempt to replace one with the next will result in a loss of capability for the patrol officer.
The primary purpose of the carbine is to shoot a single, high-energy projectile at a time with precision. The combination of its sighting system, low recoil and magazine capacity allow an officer to rapidly engage multiple targets with the required precision at ranges beyond the typical envelope of the handgun.
In comparison, the shotgun's purpose is to deliver a devastating blow at distances inside – or just beyond – the typical handgun envelope. Since it's a shoulder-fired weapon that throws a pattern of pellets, the shotgun is especially well-suited to making hits on moving targets that would be more difficult to achieve with a handgun or carbine.
Because these weapons are optimized for different purposes, any attempt to substitute one for the other is destined to fail. For example, a shotgun – even with slugs and rifle sights – cannot deliver the same level of precision as the carbine at longer distances. Its projectiles don't offer the same kind of barrier-busting, armor-defeating penetration that a (non-pistol caliber) carbine's does, and the weapon simply cannot carry as many rounds as the carbine, making it capacity-limited in comparison.
However, the shotgun is often the superior weapon at close distances. Its pattern increases the potential to get a first round hit on the target – particularly if it's moving – and it hits harder. While pistol-caliber or 5.56x45mm carbines are certainly lethal, they don't cause the same kind of damage or deliver the same kind of fight-stopping performance as a load of buckshot at close range. Our military's experience in wars from Southeast Asia to the Middle East indicates that the 5.56x45mm cartridge can deliver unpredictable and disappointing performance – particularly at close ranges, with non-expanding projectiles that haven't destabilized before they exit the target – but the track record of 12 gauge buckshot and slugs as close range fight-stoppers is much more certain.
So, the "shotgun versus carbine" argument is a false one, because these are different tools with different applications. Forcing a patrol officer to choose between a carbine or a shotgun is like asking a carpenter to choose between his drill and his hammer – a senseless exercise that will interfere with getting the job done. Both of these guns should be available to the patrol officer to use as the situation – and personal skill/comfort level – dictates, and it's not a good plan to replace the shotgun en masse with the carbine.
Not all that it's cracked up to be
The other fly in the ointment, is that while the shotgun is a very powerful lethal device, it's not always an effective less-lethal device.
The 12 gauge shotgun is certainly capable of launching a variety of less-lethal projectiles, to include impact and chemical munitions, but the payload is limited by the size of the bore and the chamber. Competing 37mm and 40mm less-lethal launchers are capable of delivering munitions that dwarf the size, payload, accuracy, energy and effective range of the 12 gauge projectiles, making them much more effective less-lethal tools.
We've seen some disappointing 12 gauge less-lethal engagements as a result of the limitations of this system. Suspects have been able to easily deflect the small and low-powered 12 gauge munitions, shrug them off, or run away outside of their effective range and continue their activities. While no weapon – lethal or less-lethal – is always effective, the larger 37mm and 40mm less-lethal launchers have a better track record of ending threats quickly with fewer rounds fired.
This is not to say that the 12 gauge less-lethal shotgun is a worthless tool, for it certainly is not. The less-lethal shotgun often gets the job done, and it provides access to an extended range less-lethal device that officers might otherwise lack if the department refused to spend the money on a more expensive 37mm or 40mm system. A 12 gauge less-lethal shotgun isn't optimum, but it's certainly better than no less-lethal system at all.
Bad trade
The problem though, is that a sometimes-effective less-lethal shotgun is a poor trade for a lethal shotgun. There are other tools out there (37mm, 40mm) that can do the job of the less-lethal shotgun with greater efficiency, but there are no other tools that can deliver the performance and capability of the lethal 12 gauge shotgun within its operational envelope. There is no handgun, no carbine and no rifle that can beat the shotgun at its own game.
I think it's incredibly important for agencies to provide an extended range, less-lethal option for patrol officers, and I think the 12 gauge shotgun can do a credible – if not optimum – job of filling this role. However, I don't think it's a good move for agencies to convert all of their lethal shotguns to less-lethal to fulfill this need. It's reasonable for an agency to purchase additional shotguns for less-lethal use, but taking away the patrol officer's most effective short-range combat weapon in order to turn it into a less-lethal tool is short-sighted.
The patrol rifle is not a substitute for the shotgun, and the desire for an extended range less-lethal device is not a good justification for taking the lethal shotgun out of the inventory. The job of a police officer is getting more dangerous and more difficult with each passing day. We should be looking to give an officer more options and capabilities, instead of taking away the most effective tools in their arsenal. I understand that some officers will prefer the patrol rifle to the shotgun because they are more comfortable and proficient with it, but this situation should not prevent officers who are capable of using the shotgun effectively from having access to it. Add a less-lethal shotgun to the available equipment, but don't trade the lethal shotgun for it.
The shotgun's place in law enforcement is still in the rack, alongside the patrol rifle. If an officer needs a shotgun, nothing else will do.
Don't turn them all into Nerf guns.
God bless you all and be safe out there.