Md. city to pay damage caused to homes during police standoff
Maryland State Police confirmed they caused much of the damage during a 40-hour standoff with an armed suspect
---
By Phillip Jackson
The Baltimore Sun
BALTIMORE — Randolph Scott and Fonda White left their adjoining rowhomes in a hurry so Baltimore Police could better deal with an armed man who fired a shot and barricaded himself inside one of Scott's rooms. It would be 40 hours before the drama came to an end, leaving them without a place to stay and without knowing what was really happening inside.
The standoff ended peacefully last Thursday with the man, who was going through a behavioral crisis, taken to a hospital.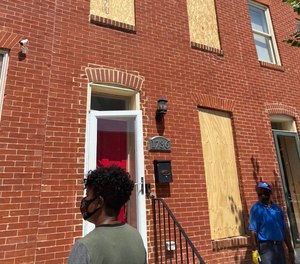 But when Scott and White returned to their homes in East Baltimore's Eager Park neighborhood, they found broken windows and walls destroyed, plaster spilling onto floors. At least five windows in White's home on the 1700 block of E. Chase St., are now boarded up — after she spent two days sleeping in her own car by herself while police continued their efforts.
"It was a lot, it was excessive," said White, 53, adding that she and her daughter aren't living in the house because of all the damage.
Maryland State Police confirmed Wednesday to The Baltimore Sun that they had caused much of the damage, after they arrived to relieve Baltimore City police officers and others as the incident dragged on. Walls were damaged, for example, while troopers tried to get a better view of the armed man.
But Wednesday also brought good news for Scott and White. Baltimore City Councilman Robert Stokes told them the city would cover the damages and pay for all repairs.
"As I was coming up here I wanted to surprise Mr. Scott so that he would not have to worry about the cost because the city will make him whole and be a neighbor. As I got here I also called Ms. Dana Moore and said we would need to do the same thing for Ms. White also," Stokes said.
City Solicitor Dana Moore said the city decided to act quickly to assess the damage and reimburse the residents without waiting for them to file claim forms.
"We looked at this and said 'Absolutely not, we need to jump on this right away,'" Moore said. "We realized that this situation was very unique and we had citizens who were very helpful. We decided that we are not going to wait on the citizens to submit the ordinary claim forms. We are going to be proactive."
Scott, 73, said the third floor of his home saw most of the damage. He said he stayed at a relative's house in Harford County for the two days.
Scott said officers told him to leave his home to avoid tear gas fumes. After assessing the damage he regrets his decision to let the officers inside.
"I shouldn't have let them in here in the first place, but I was scared because I did not want the fumes to get to me," Scott said.
Scott said he had lived in the area all his life, including the past eight years in this home.
When told that the city would pay for the repairs, White said she was "happy," although the situation remains very stressful.
"Just trying to find somewhere to stay and everything. I have been sleeping in the car for two nights," White said.
Maryland State Police said in a statement that they arrived to help relieve Baltimore Police and tactical teams from other counties during the lengthy standoff.
"The Maryland State Police team was deployed Thursday morning and was shown to the perimeter locations already occupied by tactical officers, which included the home of Mr. Scott," the statement said. "Due to the shot that had been fired inside of the suspect's home the night before and the time that had elapsed, members of the Maryland State Police team initiated efforts to see inside the residence in order to locate the man and determine his condition."
State police broke a window and removed part of a wall to extend cameras that "ultimately gave them access to the man's location," the statement said.
They found the man lying on the floor in need of medical assistance, and carried him out when he would not leave the home on his own.
State police say they have been in contact with Baltimore police concerning the matter and have been assured that "repairs will be made to Mr. Scott's home."
On the night of the barricade incident, several blocks of Eager Park just north of the Johns Hopkins Hospital campus were blocked off to "ensure the safety of citizens and law-enforcement personnel."
Baltimore Sun reporter Justin Fenton contributed to this article.
©2020 The Baltimore Sun
McClatchy-Tribune News Service