8 Ore. occupiers will not face firearm charge
The Ammon Bundy-led takeover of the Malheur National Wildlife Refuge began Jan. 2 and lasted nearly six weeks
---
Associated Press
PORTLAND, Ore. — A federal judge has tossed a charge of using and carrying a firearm in the course of a crime of violence for eight people involved in the occupation of an Oregon wildlife refuge.
The Oregonian/OregonLive reports that David Fry's defense lawyer Per C. Olson argued that the charge be dismissed for his client and seven others, including Ammon Bundy and Ryan Bundy.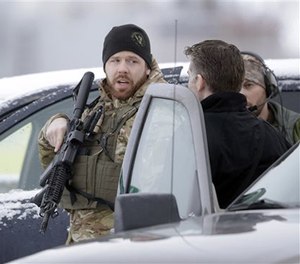 Assistant U.S. Attorney Ethan Knight said in a hearing that the charge would be a "close call' for the court.
Olson said the men are now less exposed to possible prison time if they are convicted on the remaining charges.
There is no minimum prison sentence for convictions of conspiracy to impede federal officers and firearms possession in a federal facility.
The Ammon Bundy-led takeover of the Malheur National Wildlife Refuge began Jan. 2 and lasted nearly six weeks.
Copyright 2016 The Associated Press