Colo. man wanted for allegedly shooting a police officer captured
Randy Bishop has been arrested nearly three months after he shot at a deputy while escaping custody inside a hospital
---
Olivia Prentzel
The Gazette
COLORADO SPRINGS — Bail was set at $1.5 million for Randy Ray Bishop, an "armed and dangerous" fugitive accused of wounding an officer during a traffic stop this month and escaping from another after stealing their gun, records show. 
Police captured Bishop on Sunday after spotting him driving a blue Mercedes in the 900 block of Tammany Drive in southeastern Colorado Springs, spokesman Lt. Jim Sokolik said Monday in a news release. Officers signaled for Bishop to stop, but he fled, prompting officers to position their cars to "disable" Bishop's car in the 800 block, the release stated.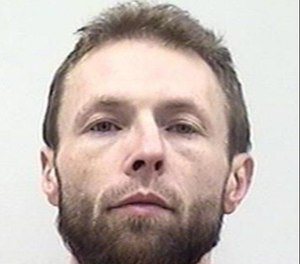 Bishop, 35, was arrested on the suspicion of the following: two counts of attempted first-degree murder of a peace officer, first degree assault, robbery, second-degree kidnapping, two counts of second-degree assault, felony menacing, child abuse, disarming of a peace officer, escape, robbery, first-degree aggravated motor vehicle theft and unlawful distribution, manufacturing, dispensing or sale of a controlled substance, police said.
Neither Bishop nor the officers involved in his capture were injured, police said.
Bishop evaded police earlier this month after a shootout with officers who had pulled over a car with expired license tabs at Galley Road and Arrawanna Street. One of the officers who returned fire was wounded before Bishop sped away. 
Bishop, who had been sought on suspicion of robbery, assault with a deadly weapon, kidnapping, menacing and child abuse, was taken into custody in November, but escaped. 
During a November chase, police rammed Bishop's car and he was taken to UCHealth Memorial Hospital Central downtown. Police say he escaped from a CT scan room and stole a detective's gun in a hallway struggle, during which two shots were fired inside the hospital. No injures were reported.
Police said Bishop stole a car at the hospital and fled.
Police had offered a $10,000 reward for tips leading to Bishop's capture and conviction.
Bishop is due to hear the charges against him in front of 4th Judicial District Judge David Gilbert on Feb. 4. 
His bond was set at $1,550,000, online jail records show. 
McClatchy-Tribune News Service