Gang member who dragged, paralyzed NYPD detective busted again in stolen vehicle pursuit
In a scene similar to the 2017 pursuit that put Detective Dalsh Veve in a wheelchair, Justin Murrell allegedly hit the gas during a traffic stop early Sunday
---
By Rocco Parascandola
New York Daily News
NEW YORK — A teenage gangbanger who got a lenient sentence after dragging and crippling an NYPD detective was busted once again Sunday for leading police on a chase in a stolen car.
In a scene similar to the 2017 chase that put Detective Dalsh Veve in a wheelchair and forever altered his life, Justin Murrell allegedly hit the gas during a car stop in Brooklyn early Sunday, cops said.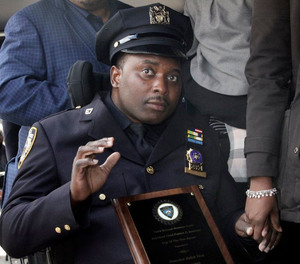 Murrell, 19, a reputed Crips member, walked free last year, after being sentenced to 1⅓ to four years at a juvenile detention center for the June 3, 2017, chase.
Veve, who was responding to a shots-fired call, was questioning the then-15-year-old Murrell near E. 53rd St. and Tilden Ave. when the teen hit the gas, dragging the officer for two blocks.
Veve held on for his life, firing a bullet that struck Murrell in the jaw. He eventually fell from the runaway car and suffered catastrophic head and body injuries. The brain damage left him unable to speak
A jury refused to convict Murrell of attempted murder but found him guilty of assault.
On Sunday, cops tried to stop Murrell at a red light on New Lots Ave. and Hinsdale St. in East New York about 1:20 a.m. but he sped off, driving erratically before officers ultimately stopped his vehicle, authorities said.
Cops charged Murrell with grand larceny, criminal possession of stolen property, reckless endangerment and running a red light. He awaits arraignment in Brooklyn Criminal Court.
The car was reported stolen from a dealership in Valley Stream, L.I., police sources said.
Murrell's latest run in with the law outraged the city's police unions.
In 2017, as Justin Murrell fled in a stolen vehicle, he dragged Detective Dalsh Veve causing catastrophic, permanent injuries. On parole, today he threatened the safety of NYers again as he drove recklessly in yet another stolen vehicle. Fortunately, @NYPD75Pct cops arrested him. pic.twitter.com/Y7tOdOjJ52

— NYPD NEWS (@NYPDnews) May 23, 2021
"If Justin Murrell stayed behind bars where he belongs after causing life-altering injuries to Detective Dalsh Veve in 2017 by dragging him for blocks while he fled in a stolen car, he would not be able to hold our Brooklyn neighborhoods hostage with threats of continued violence," said Detective's Endowment Association President Paul DiGiacomo.
"Is anyone surprised? This perp dragged a hero New York City police officer behind a stolen car, paralyzing him. He had an extensive criminal record before that," Police Benevolent Association President Patrick Lynch added. "What will it take for our broken justice system to keep him behind bars where he belongs?"
©2021 New York Daily News. 
McClatchy-Tribune News Service