NYPD says it will engage in more suspect pursuits as part of new tactic
"People thinking they can take off on us — those days are over," NYPD Chief of Patrol John Chell said
---
By Rocco Parascandola
New York Daily News
NEW YORK CITY, N.Y. — It's a tactic New York City police officers are using more often in cases of violent criminal suspects fleeing in motor vehicles — blocking traffic in the suspects' likely escape path in hope of forcing them to surrender.
But in a case June 30, alleged car thief William Pichardo, 32, wasn't of a mind to let police impede his flight.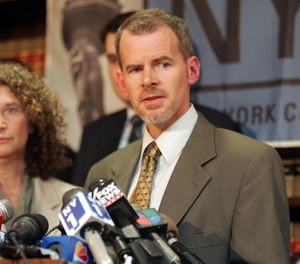 He hit the gas, crashed through a line of police vehicles lining the Cross Bronx Expressway, and kept going over the George Washington Bridge and into New Jersey.
He was finally nabbed about eight miles away in Bogota, N.J. after authorities said he jumped over a wall near the Hackensack River, missed the roof of a building he was aiming for, and plunged nearly 80 feet to the ground.
Pichardo was critically hurt and was recovering at Hackensack Medical Center when the Daily News tried to reach him by phone. He did not answer any questions, and a woman who took the phone from him hung up.
The Bronx District Attorney's office said Pichardo won't be charged and arraigned until he's released from the hospital.
No NYPD officers were hurt, including then-Detective Kaz Daughtry, whose department-issued Dodge Durango sustained more than $15,000 of damage in the incident. Before his recent ascent to the post of assistant commissioner and chief of staff for Chief of Department Jeffrey Maddrey, Daughtry ran many street-level enforcement operations.
The NYPD knows Pichardo won't be the last fleeing suspect to throw caution to the wind — but police say they want to trap more criminals the same way they tried to trap him. They see as no longer viable a policy that leaned toward engaging in as few pursuits as possible.
NYPD Chief of Patrol John Chell said at a July 6 news conference that "people thinking they can take off on us — those days are over."
Critics are worried about the apparent policy shift. Christopher Dunn, legal director for the New York Civil Liberties Union, said the department needs to think twice about increasing the number of pursuits.
In his view, the NYPD needs to "dial back car chases" in favor of less dangerous tactics.
"Lives are on the line," Dunn said. "The city faces enormous financial liability. And the NYPD seems not to care."
Dr. Maki Haberfeld, a professor of police science at the John Jay College of Criminal Justice, said the NYPD has grappled for decades with the issue of pursuits, with policies often shifting in response to a major incident.
"It's not very scientific in my mind," she said of the Police Department's approach to the problem.
Still, she said, the NYPD's pursuits of criminals who try to drive off can continue as long as police consider, before giving chase, the potential for bystander injuries and the dangerousness of the suspect.
In his remarks in July, Chell said the increase in police pursuits stems from concerns that more crimes being carried out by reckless drivers in unregistered vehicles, including automobiles and scooters.
"Are are we not supposed to engage a white car with mismatched plates that two occupants felt the need to chase kids down the block and fire 12 rounds into a crowd, killing an 18-year-old kid who's an aspiring singer?" Chell asked, citing a July 5 incident on Morris Ave. in Fordham Heights, the Bronx.
"Yeah, we're going to chase that car, and we did, and we got two arrests," Chell said.
Chell also cited an incident July 4 in Manhattan's Inwood neighborhood in which a scooter-riding shooter killed a 30-year-old man. "Are we not supposed to engage that?" Chell asked.
That pursuit did not immediately yield an arrest — it was more than a week before a suspect in the slaying was in custody.
Chell said police tactics have curbed complaints about reckless driving and helped reduce crime.
But cops know high-speed pursuits are hazardous.
Maddrey in August said in an internal memo that pursuits should be called off if the risk to cops and the public "outweighs the danger to the community if the suspect is not immediately apprehended."
That followed an incident on Aug. 1 in which 10 pedestrians were hurt when an out-of-control driver jumped a curb near Grand Central Terminal moments after police tried to stop him because he was driving a stolen SUV.
"Pursuing any car is inherently dangerous," Chell said in more recent remarks. "You've got to strike that balance [of] when you're going to do it, how you're going to do it. Are you going to allow a pursuit at 2 o'clock in the afternoon ... when schools get out? No."
Chell has said he's made clear to NYPD commanders that they can choose not to chase if they fear someone will get badly hurt or killed.
"I tell bosses if you don't think it's a go, you call it off," Chell said.
Police have decided a combination of tactics is the best approach.
They believe they can use data from license plate readers, observations from Aviation Unit helicopter cops, and officers on the ground communicating on a citywide frequency to track fleeing suspects in hope of slowing the traffic in front of them.
The idea is to impede the suspects' flight to the point where they must surrender to police.
The policy is not fully defined. One problem is that the NYPD has admitted it does not have an official definition of what constitutes a pursuit. Police Commissioner Edward Caban has formed a "working group" that will define a pursuit.
The International Association of Chiefs of Police has its own definition of a pursuit: "An attempt by an officer in an authorized emergency vehicle to apprehend a suspect who is actively attempting to elude apprehension while operating a vehicle as defined by applicable law."
The new police tactics come as the state Attorney General's office is investigating 11 incidents dating to 2022 involving NYPD vehicles and fatalities — though not all of them involve high-speed pursuits.
In mid-August, police busted several people in three different stolen car incidents in a 24-hour span with varying versions of their new tactics.
On Aug. 23, three men in a Range Rover stolen during a home invasion in New Jersey headed into Staten Island.
The NYPD, aware of the theft thanks in part to an app it now shares with New Jersey and other suburban authorities, tried to nab the suspect by the Verrazzano Narrows Bridge.
But the suspects got past police at a roadblock and headed over the span to Brooklyn. Minutes later, they turned around and headed back toward Staten Island.
By then, police had stopped traffic on the Staten Island side. The suspects bailed. One ran off, and the other two jumped from the roadway and onto the grounds of Fort Wadsworth, police said. All three suspects were arrested.
The day before, on Aug. 22, five men from Newark were nabbed in Staten Island in a car that was stolen that morning in Todt Hill, police said.
The thieves headed back to New Jersey over the Goethals Bridge, police said — but in an effort to avoid authorities there, they returned to Staten Island over the Bayonne Bridge, where the NYPD put its "mitigation plan" in effect, slowing traffic and arresting the suspects.
About a half-hour later on Aug. 22, a license plate reader alerted authorities to a stolen Dodge Charger that Joshua Padilla, 29, was allegedly driving into Manhattan through the Holland Tunnel.
The NYPD tracked the car north with the help of electronic systems and tried to stop the suspect on the Henry Hudson Parkway in Washington Heights.
Padilla jumped out of the car and then jumped from the roadway by W. 155th St., where an exit ramp slopes down from the northbound lane. He landed safely, police said, then got into a work van that was unoccupied but with the ignition running.
His freedom was short-lived, however, as he crashed into a police cruiser minutes later in nearby Riverside Park. He and two cops suffered minor leg injuries. Padilla was charged with grand larceny and possession of stolen property. The woman in the car with him, Sophia Serroukn, 23, was arrested for unauthorized use of a vehicle.
Their lawyers had no comment.
_____
©2023 New York Daily News. Visit at nydailynews.com.
Distributed by Tribune Content Agency, LLC.
McClatchy-Tribune News Service