11 SWAT officers sick after exposure to heroin, fentanyl during raid
A flash-bang grenade tossed into an alleged stash house kicked up powdered fentanyl and heroin that SWAT officers breathed in
---
By Christine Dempsey and Nicholas Rondinone
The Hartford Courant
HARTFORD, Conn. — A flash-bang grenade tossed into an alleged stash house on Forrest Street Tuesday night kicked up powdered fentanyl and heroin that SWAT officers raiding the building breathed in, police said. Eleven of the officers were taken to a hospital for treatment for the deadly opioid.
Following weeks of investigating by Hartford and East Hartford detectives into a suspected heroin operation, police learned that heroin was being bagged at the apartment for street-level sale, Deputy Chief Brian Foley said.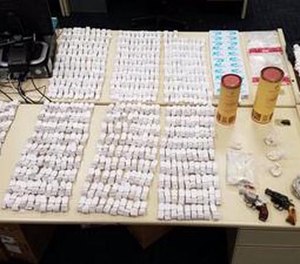 With information that a large amount of heroin and firearms were in the home, the department's Emergency Response Team joined detectives to raid the home about 7:30 p.m., Foley said. Making what Foley described as a tactical entry, the flash-bangs, meant to stun anyone in the apartment, went off and turned the powdered drugs into an aerosol on a table.
"That powder was airborne, and some of the SWAT team members were breathing it in while trying to secure three suspects," Foley said. After getting the suspects out of the apartment, the team called for an evacuation.
"When they were outside, a few of the members became dizzy, nauseous; some of them vomited. The call was made to send the whole team over to St. Francis [Hospital and Medical Center]," Foley said.
Dr. C. Steven Wolf, chairman of the department of emergency medicine at St. Francis, was notified and kept in contact with police officials in Hartford, according to Foley. "He said they presented all the symptoms of someone who is exposed to heroin or fentanyl," Foley said.
After making safe re-entry into the apartment, investigators tested the drugs and determined that they contained fentanyl, a potent synthetic opioid.
Foley said all the officers were treated overnight and have been released. They were able to return to work on Wednesday.
"This is something that we train for," Foley said. "Hartford police SWAT team probably does 100 to 150 entries a year. Without a doubt, they are the most experienced team in the state. They practice this, we train for this, so it's something expected to encounter. We did last night."
About 50,000 bags of heroin ready to hit the streets were taken from the home, Foley said.
In addition to the processed heroin, police also confiscated 350 grams — or 12 ounces — of raw heroin and two handguns, he said.
Foley said the Hartford police have been working with the U.S. Attorney's office to bring federal drug charges against the three men arrest. The names of the suspects was not released.
The dangers of fentanyl, a potent synthetic opioid that's up to 50 times stronger than heroin, has become a growing concern amongst the law enforcement community tracking down the dealers.
The U.S. Drug Enforcement Administration in June released a video, to be played a roll call at police departments across the country, pointing to the lethality of the drug, which often is cut into batches of heroin to increase their strength.
"Fentanyl can kill you," Acting Deputy Administrator Jack said. "Fentanyl is being sold as heroin in virtually every corner of our country. It's produced clandestinely in Mexico, and [also] comes directly from China. It is 40 to 50 times stronger than street-level heroin. A very small amount ingested, or absorbed through your skin, can kill you."
Among the warnings the DEA gives is that fentanyl can accidentally be absorbed through the skin or inhaled — as was the case in Hartford.
The DEA said the effects of the drug, including disorientation, coughing, sedation, respiratory distress or cardiac arrest, come on quickly and are "profound."
In the video for law enforcement, two investigators from New Jersey describe a time in which they inhaled a small amount of fentanyl. One of the detectives said he felt his body "shutting down."
Foley said that since fentanyl has been present in Hartford, steps have been taken to ensure officers are aware of the dangers.
An increasing amount of heroin seized across Connecticut in recent years has been cut with fentanyl, making it a target for law enforcement agencies amidst an opioid epidemic that has claimed hundreds of lives.
Earlier this year, a suspected Hartford dealer investigators allege was connected to a fatal overdose in Southington was caught with 450 bags, as well as 30 grams, of a mixture of heroin an fentanyl, according to police.
Federal and local investigators tracking drug trade in Central Connecticut seized 2 1/2 kilograms of fentanyl during a series of raids in May.
This month, Dr. James Gill, the state's chief medical examiner, released fatal overdose statistics that show a rise in drug deaths, largely fueled by fentanyl. In the first six months of 2016, 119 people died from a combination of fentanyl and heroin, more than all of 2015.
"I think the fentanyl has made a big difference," Gill said Friday. "It's very potent and there's just a lot of it out there. People don't know what they're getting and it's very easy to overdose on."
McClatchy-Tribune News Service