NTOA program combats disparities in SWAT leadership, readiness
Program seeks to enhance the professionalization of SWAT through serious academic study of tactical operations and leadership
---
"Being a student of your profession will prepare you to be an effective leader during a crisis."
When two Islamic terrorists attacked county workers at the Inland Regional Center in San Bernardino, California, on December 2, 2015, San Bernardino Police Department Lieutenant Travis Walker was thrust into the demanding roles of Incident and Tactical Commander. Fortunately, Walker was a student of his profession and his prior training and education gave him a distinct advantage as he coordinated and led the multi-agency response to the deadliest terrorist attack on United States soil since 9/11.
In his debriefing to attendees at the 33rd National Tactical Officers Association (NTOA) 2016 Tactical Operations Conference and Trade Show this past August, the SWAT Lieutenant shared how his training prepared him to respond.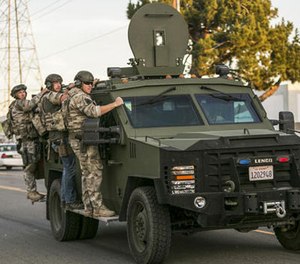 Based on information he had gleaned from a tactical debrief at a prior training conference, Walker knew he needed to quickly establish a casualty collection point as close as possible to the scene. His rapid response enabled rescuers to provide immediate aid to the wounded, saving a large number of lives.
NTOA Creates Academy Command College
In an effort to promote the education and training of SWAT leaders like Lieutenant Walker, the National Tactical Officers Association announced the creation of the NTOA Academy Command College, which seeks to enhance the professionalization of SWAT through serious academic study of tactical operations and leadership.
As the San Bernardino attack illustrates, tactical missions handled by SWAT are some of the most difficult and challenging facing law enforcement. Successfully resolving critical missions like hostage rescue, barricaded subjects, felony warrant service and active shooter assaults requires considerable planning; knowledge of specialized tactics, tools and capabilities; careful coordination with other agencies and assets; and the ability to make time-critical decisions in moments of extreme stress and often without sufficient information. This is not an arena for the untrained and unprepared.
While the NTOA has a history of providing cutting-edge training in these areas, it recognized that a national standard for the training and education of tactical law enforcement leaders was missing from the profession. While some agencies were diligent about training SWAT leaders, other agencies lacked the culture and resources to provide suitable education.
Additionally, many agencies were unable to get access to information on SWAT training, logistics and operations from agencies beyond their immediate area, depriving them of valuable opportunities to learn.
In an effort to combat the broad disparities in SWAT leadership and readiness across the nation, and to provide equal access to the best practices in tactical operations, the NTOA developed the NTOA Academy Command College.
how the ntoa academy benefits swat officers
The College offers a professional education and certification program that seeks to prepare officers and leaders to succeed in SWAT operations. Students advance through three distinct phases of training, each composed of a combination of online and classroom training, topped off with a Capstone Research Project. The three phases focus on leadership at the tactical, operational and strategic levels, and each consist of approximately 185 hours of instruction.
It was important to the NTOA to ensure the program meet rigorous academic standards, so some portions of the NTOA Academy curriculum qualify students to earn college credits at Columbia Southern University. This is not a course where you get a certificate for attendance – it's a highly challenging program designed to be the most demanding education and certification program available for law enforcement professionals.
Graduates of the NTOA Academy Command College will leave the program better prepared to lead tactical teams in the high-risk environment they operate in every day. They will gain exposure to the best instructors, techniques, tactics and procedures known to SWAT, and will enhance their agency's ability to resolve tactical operations in a way that reduces risk and liability, enhances success and preserves life.
As recent events across our nation have indicated, we are continuously at risk from terrorist attacks, domestic unrest, violent and mentally disturbed individuals, and hardened criminals. Calls for service for tactical teams are on the rise, with no end to that trend in sight.
We owe it to the communities we protect to have the most highly trained and educated officers and leaders available to resolve the tactical problems only SWAT is trained to handle, and the NTOA Academy Command College represents a positive step in that direction.
For more information on the NTOA Academy, see www.ntoaacademy.org.