2 killed in attack targeting synagogue in Germany
The attacker is believed to be a 27-year-old German man
---
By Marek Majewski
dpa
HALLE, Germany — An apparent right-wing extremist attack targeting a synagogue with guns and explosive devices in the eastern German city of Halle on Wednesday left two people dead and at least two others injured.
An attacker wearing a steel helmet and boots placed homemade explosive devices in front of the synagogue on Wednesday afternoon and attempted to enter it, security sources told dpa. Several shots were fired.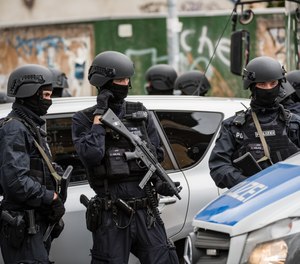 A woman was shot dead outside the synagogue, the sources said. It was unclear whether she was attending the synagogue or just passing by.
Local media reported that shortly after the attacker failed to enter the synagogue, a grenade or an improvised explosive device was thrown into an adjacent Jewish cemetery.
A second victim — a man — was then killed at a nearby kebab shop, sources said.
A suspect has been arrested and police believe he was acting alone.
The attacker is believed to be a 27-year-old German man with an extreme-right background, security sources told dpa.
German Interior Minister Horst Seehofer said it could be assumed that the events were "an anti-Semitic attack."
Seehofer also said it seemed likely the attack was motivated by right-wing extremism. "According to the federal attorney general, there is sufficient evidence for a possible right-wing extremist background," he said in Berlin.
Police had warned the public to remain alert and stay indoors as other assailants may still be at large, but later lifted the alert.
Jewish community leader Max Privorotzki told Der Spiegel magazine there were between 70 and 80 worshippers inside the synagogue at the time of the attack.
The attack coincides with Yom Kippur, the holiest day of the year in Judaism, and comes amid a heated public debate about the safety of Jews in Germany. Anti-Semitic crimes, especially violent ones, are on the rise in the country.
A dpa reporter saw the first victim lying about 100 feet away from the synagogue. The body was covered with a blue blanket.
DEVELOPING: Two are dead in a shooting in the east German city of Halle near a synagogue on Yom Kippur, with one suspect in custody, a search for at least one more person and video showing a man in apparent military gear firing shots in the street. https://t.co/PJWXmlON2I pic.twitter.com/ZX1ExkmgAN

— World News Tonight (@ABCWorldNews) October 9, 2019
A witness at the kebab shop, where the second victim is believed to have been killed, said he had been ordering a kebab at the time of the incident, and that he hid in the shop's bathroom, texted his family that he loved them and only came out once he was asked to do so by police.
"The man came towards the kebab shop. He was wearing a balaclava and carrying an assault rifle. He threw a grenade, which bounced off the (shop's) doorframe and exploded in front of another guest on the floor," a witness told German broadcaster n-tv.
Two people injured in the attack are being treated in Halle's University Hospital, spokesman Jens Mueller said.
"One patient has gunshot wounds and is currently undergoing an operation," Mueller said, declining to give details about the identity of those wounded.
The city's main train station was closed down due to the investigation, rail operator Deutsche Bahn said, adding that all trains to and from that location would be delayed.
Security at nearby airports and the borders to Poland and the Czech Republic were stepped up.
The European Parliament held a minute's silence for the victims in the Halle attack at the start of its plenary session in Brussels on Wednesday.
United Nations Secretary-General Antonio Guterres strongly condemned the attack in a statement from his spokesman.
It is "yet another tragic demonstration of anti-Semitism," Guterres said.
"Houses of worship around the world must be safe havens for reflection and peace, not sites of bloodshed and terror," the statement said.
©2019 Deutsche Presse-Agentur GmbH (Hamburg, Germany)
McClatchy-Tribune News Service