Retired cop's firearms directory aims to match instructors and students
FirearmsU.com, a new website built by a retired officer, is helping instructors fill their classes and helping students find exactly what they're looking for in a firearms trainer
---
David Windham, like many young people entering the field of law enforcement, expected the firearm training he was receiving from his department to be top-notch.
It didn't take long for him to decide that qualifying and being well-trained were two entirely different things, and he started looking for advanced training elsewhere. It was the search for outside skilled training that made him discover a void he felt needed to be filled.
Enter: FirearmsU.com. The website launched October 1 and has already accrued over 100 members nationwide. FirearmsU offers an easy-to-navigate search engine that serves two purposes: it allows students to search for instructors in their state based on skill level and certification, and it allows instructors to advertise their classes at no cost.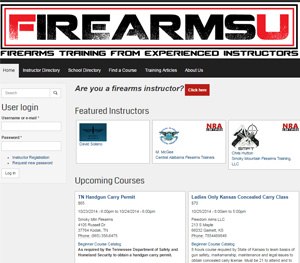 "I truly looked everywhere for a comprehensive directory of firearms instructors and found them all to be marketing ploys for forums that were outdated, local to one geographical area, or just plain incomplete," said Windham, a now-retired police officer and NRA-certified firearms instructor, who built FirearmsU with the help of his wife and a webmaster.
Filling a Niche
With existing options geared, according to Windham, either toward beginners or intermediate-level students on one end and big-name, big-ticket training on the high end, there was a need for an affordable 'middle ground.'
"[Students] now have an option; they can find training that gives them a higher skill level without having to seek out the big name instructors," he said. "Cops don't make a lot of money, they can't afford $600 to $1200 classes, but they can afford a $200 class, and a lot of the instructors have the exact same credentials."
In fact, a tactical concealed carry class and carbine carry class Windham has helped organize for December is being taught by Kris Sutton of Shoot and Move LLC., a former U.S. Army Ranger and Atlanta SWAT officer.
"His pedigree is as good as they come, and his classes are less than half the price [of competitors]."
Navigating the Directory
The instructor directory on FirearmsU lets the user select a state and NRA, DOJ, and DOD certifications and tactical experience, or they can search for a specific instructor by name. Results then give that person the names of the training schools or individual trainers, their contact information, social media pages, certification and experience level, and any other information the instructors or schools have chosen to provide.  
They can enroll in a specific class on the site, which then notifies the instructor so that they can follow up directly with the student via email about any particular details regarding the course.
An instructor can sign up by creating a username and password, verifying which firearms certifications they have, providing a public email, and giving a brief biography and photo if they choose.  They can then add social media links to further promote their business, post class schedules, and even post blogs to the site about topics pertaining to firearms training.
"The site being free to use for all involved probably helps, but we all just  want a safe, well-trained populace and for officers to have the option to learn advanced tactics that their departments don't offer."
The site is also open to active military, veterans, and civilians who want to step up their training, maintain their certification, or increase their class size.
The Future of FirearmsU
As with any community-based site, member feedback is a key component and Windham is working on implementing a rating system to allow users to give instructors a star rating and feedback so that students can better evaluate who they're selecting for training.
"Those one-star instructors won't last on the site for very long. We're only interested in professionals."
FirearmsU eventually plans to bring advertisers on to the site to become a for-profit service without charging members, but Windham and his team are currently focused on building a member base first.
"Every day we're trying to enhance the user experience," said Windham. "I send out a welcome email to new members and ask for suggestions to improve the site, so we're constantly changing it to make it more visually pleasing, easy to navigate, and adding features that make things easier for instructors."