'The big thing is that Mike's alive': Wife of critically wounded LEO speaks out
A two-vehicle crash left two dead and five seriously injured, including Deputy Michael Trotter
---
By Suzie Ziegler 
BEAVERTON, Ore. — Deputy Michael Trotter faces a long road to recovery. On Wednesday, a car full of teenagers crashed into the deputy's patrol car, killing two and leaving three more teens with serious injuries, reported KGW. Trotter suffered critical injuries.  
Trotter's wife, Heather, spoke out about her husband's injuries on Thursday. 
"His pelvis is destroyed," she told KGW. "He had internal bleeding. It's a fairly low prognosis that he will get full function in his left leg." 
Yet Heather is just glad her husband is alive. When the sheriff's office knocked on her door Wednesday, she feared the worst. 
As you are aware, one of our deputies was critically injured in a traffic crash early this morning. Sheriff Pat Garrett identified the injured deputy as Deputy Michael Trotter. The photo is of Deputy Trotter and his son.

Sheriff Garrett's full statement: https://t.co/uAQPCoTJ9h pic.twitter.com/i3E3303jSP

— Washington County Sheriff's Office (Oregon) (@WCSOOregon) April 27, 2022
"I was like, 'Oh my god, is he alive?'" she remembered. "[They said] 'Yes — but we don't know his condition,' And I was like, 'Oh my god, thank you. OK, breathe.'" 
Heather says she's grateful for the community support as the extent of her husband's injuries become clearer.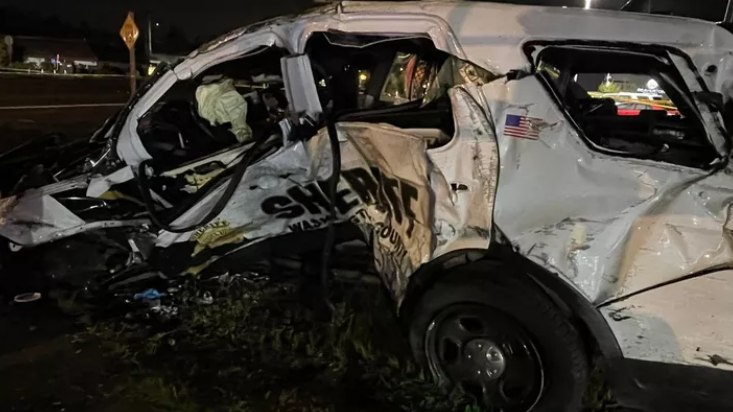 "I don't know that I can say thank you enough," she said. "The big thing is that Mike's alive. That's what makes me fine." 
At a press conference last week, Washington County Sheriff Pat Garrett said Trotter was in critical but stable condition. A GoFundMe has been set up to help Trotter and his family. The crash remains under investigation.