Officials: Jacob Blake was TASERed twice before shooting
Officials revealed new details in the Jacob Blake shooting, including the names of the 2 other officers involved
---
By Nelson Oliveira
New York Daily News
KENOSHA, Wis. — Wisconsin officials revealed new details Friday in the caught-on-tape shooting of Jacob Blake and identified the two other officers who were at the scene when a white cop fired seven rounds into the Black man's back.
During a struggle that preceded the broad-daylight shooting in Kenosha, police deployed their tasers twice in a failed attempt to subdue the 29-year-old father of six, the Wisconsin Department of Justice said in a news release Friday morning.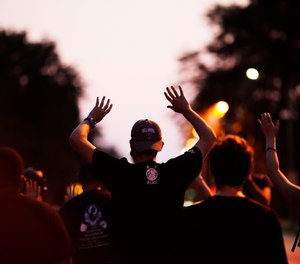 One of the cops who used a taser Sunday afternoon was Rusten Sheskey, a seven-year veteran of the Kenosha Police Department who was identified as the shooter earlier this week. The other was Vincent Arenas, who has been with the agency since February 2019 and previously worked with the U.S. Capitol Police Department, authorities said.
The third officer at the scene was identified Friday as Brittany Meronek, who joined the Kenosha Police Department in January.
The shooting, which unfolded just inches away from three of Blake's kids and appears to have left him paralyzed, has prompted a new wave of protests against police brutality and systemic racism across the city and the country this week.
It's still unclear why police decided to use a lethal weapon during an incident that began as a domestic situation, but authorities claim Blake had admitted he "had a knife in his possession" and that cops found one on the driver's side floorboard of his car.
Police responded to the scene that day after a woman reported that "her boyfriend was present and was not supposed to be on the premises," according to the Wisconsin DOJ. Cops then tried to take the suspect into custody, but he resisted arrest, walked away from them and tried to get back into his car, authorities said.
That's when Sheskey fired his weapon seven times at close range while holding Blake's shirt, a moment that was caught on cellphone video and was witnessed by multiple horrified neighbors.
Blake was airlifted to a hospital, where he's still being treated while handcuffed to a bed, according to his family.
The three officers have been placed on administrative leave, but no one has been fired or charged.
The state DOJ is leading the investigation with assistance from the FBI, Wisconsin State Patrol and the Kenosha County Sheriff's Office. Authorities said they plan to turn over the findings to a prosecutor within 30 days.
Blake had previously been arrested on domestic abuse charges involving an ex-girlfriend, court records show. He was arrested last month on charges of disorderly conduct, criminal trespass and third-degree sexual assault in connection with the case.
©2020 New York Daily News
McClatchy-Tribune News Service