Former NC police officer makes NFL history
Jennifer King last month became the first Black woman to hold a full-time coaching job in the NFL. She was also a cop
---
By Jimmy Tomlin
The High Point Enterprise, N.C.
HIGH POINT, N.C. — If this whole football coaching thing hadn't worked out for her, Jennifer King might still be in High Point, um, tackling criminals.
King, who made headlines and history two weeks ago when she became the first Black woman to hold a full-time coaching job in the NFL, has an impressive resume of experience as both an athlete and a coach, including her current role as assistant running backs coach for the Washington Football Team. But in the midst of all those sports gigs, one odd job really stands out on King's resume: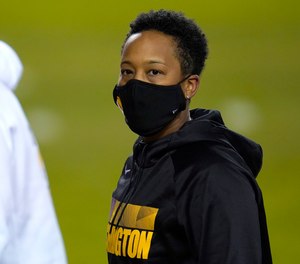 High Point police officer.
For nearly three years — from January 2014 to September 2016 — King served with the High Point Police Department, working in the south side patrol division and as a member of the Domestic Violence Task Force.
"Yeah, it was kind of random," King said during a telephone interview from her office at the Washington Football Team's headquarters in Ashburn, Virginia.
"I was coaching (women's basketball) at Greensboro College at the time, as a volunteer assistant, and I knew the recruiting officer from my childhood. Law enforcement was something I'd always been interested in, and I had the opportunity to do it, so I did it. I really enjoyed my time there."
The officer King knew, Lt. Duane Willis — who is still with the police department — says King was well-respected by the other officers on the force.
"She was a hard worker — that's just who she is," Willis said. "She was a very energetic person, a real go-getter, just like she is in coaching. She loved law enforcement, but coaching was always her first love."
As a result of that first love, a career in law enforcement wasn't meant to be for King. Her stint with the police department overlapped not only with her coaching gig at Greensboro College but also with her long stretch of success as a quarterback for the Carolina Phoenix, a Women's Football Alliance team that plays its home games at High Point's Simeon Stadium.
And therein was King's true calling — football.
King, a Reidsville native, grew up watching and playing football. Her favorite NFL team was the Washington Redskins — now the Washington Football Team, for whom she coaches — and she loved playing tackle with the boys in her neighborhood. She never played in city leagues or on school teams, though.
"My parents wouldn't let me play in leagues as a kid," King said. "They were afraid I would get hurt."
So King turned her attention to basketball and softball, both of which she played at Guilford College. After graduating, she got into coaching — women's basketball first, and eventually football.
"I was happy doing what I was doing, coaching college basketball," King said. "I didn't have any aspirations of making it to the NFL. But once I saw women getting different opportunities, my focus shifted. I started making connections, and here I am."
The most important connection was with Ron Rivera, then head coach of the Carolina Panthers, who gave King a shot as an intern. Rivera took King with him when he was hired by the Washington Football Team, where she worked this past season as an intern and two weeks ago was promoted to assistant running backs coach.
According to King, she's been well-received by the players, who see her not so much as a woman but as a coach who's simply there to help them get better. Not even the occasional hotheads have challenged her authority.
"That's the crazy thing," she said. "The hotheads are the ones I have a good relationship with. For some reason, I can always calm them down."
Maybe it goes back to King's training with the High Point Police Department, where she learned how to manage conflict and communicate effectively to defuse a tense situation.
"Our training there was phenomenal," King said. "And I worked with a really good team of guys there. I had a great time in High Point. If I hadn't gotten a coaching job, who knows? I might still be there."
(c)2021 The High Point Enterprise (High Point, N.C.)
McClatchy-Tribune News Service