Can K-9 first responders assist active shooter response?
A pilot study tested whether explosive detection K-9 teams could be an asset to law enforcement during an active shooter incident
---
By Department of Homeland Security (DHS) Science and Technology Directorate (S&T) 
The Department of Homeland Security (DHS) Science and Technology Directorate (S&T) is studying how K-9s might be used in non-traditional ways, like in active shooter response, to detect potential explosive threats – clearing the way for responders to quickly engage hostile adversaries or administer aid to those who need it.
Until recently, no testing, evaluation, or assessment had been done to determine how K-9 teams would respond to an active shooter scenario. In September 2019, S&T's Detection Canine Program, in partnership with Battelle Memorial Institute and the Counterterrorism Advanced Training Center (CTATC), designed, sponsored and implemented two innovative pilot study demonstrations to explore the proof of concept role of K-9 teams in active shooter response.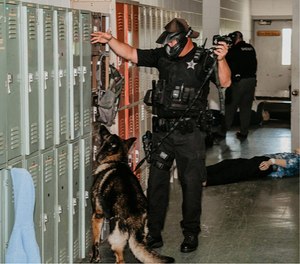 "Explosive detection canines are one of the best, most versatile mobile detection tools available for protecting the homeland from explosive threats," said Don Roberts, S&T Detection Canine Program Manager. "However, the concept of them partnering with first responders in active shooter response scenarios is a new and innovative idea."
Prior to conducting the pilot study demonstrations, the S&T's Detection Canine Program held a roundtable exercise with law enforcement and fire and EMS personnel to discuss their respective roles in active shooter scenarios and brainstorm if explosive detection K-9 teams might need any special training in order to effectively work with them during these incidents. Together, they decided that the pilot study demonstrations should help them determine:
Whether or not K-9 teams would be able to respond to and work well in these types of chaotic, high-stress environments;
Whether or not K-9 teams would be able to successfully clear a high-risk area;
What benefit and/or liability the K-9 teams might be during these scenarios; and
What kind(s) of training and testing K-9 teams would need to undergo to excel in these scenarios.
Mock scenarios test concept
With these questions in mind, SMEs from S&T's Detection Canine Program gathered with local first responders and explosive detection K-9 teams at CTATC to test the efficacy of the canine teams in realistic scenarios. Both the responders and K-9 teams participated in active shooter scenarios that included realistic weapons fire from various "shooters," exposure to spent ammunition casings and smoke, hidden pipe bombs and other explosive targets, and encounters with both hostile assailants and victims in need of immediate first aid. The mock scenarios included staged attacks in a classroom setting and in a house of worship.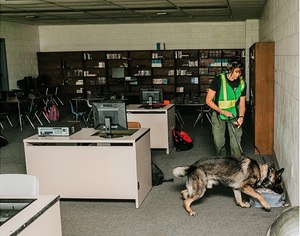 After the pilot study demonstrations were over, S&T's experts met with both the first responders and K-9 teams to get their input and feedback on how proficient they felt during the simulations. The SMEs found that experience played a big role in how effective the participating explosive detection K-9 teams were at responding during active shooter scenarios. K-9 teams frequently train in their actual working environment, so these scenarios represented a new kind of setting for the teams. The more experienced the team, the more comfortable they were with adapting to the different kinds of stimuli encountered in this new environment and helping to clear a scene quickly and efficiently for responder safety. However, the SMEs also noted that their data was preliminary and that further studies would be required.
"Based on our first two active shooter response pilot demonstrations, it's fair to say that explosive detection K-9 teams can potentially be a great asset to first responders during an active shooting scenario," said Roberts. "However, we will need to conduct more studies and collect more data on the canine teams specifically, before we can draw any statistically significant conclusions. In the meantime, these initial pilot demonstrations have provided us with enough data to provide recommendations and advice to responders who are considering integrating canine teams into their active shooter responses."
REDDI initiative
The recent active shooter response pilot demonstrations are only one part of the Detection Canine Program's ongoing efforts to provide first responders with better tools, techniques and knowledge that will empower them to do their jobs more safely and effectively. The Detection Canine Program also hosts the Regional Explosives Detection Dog Initiative (REDDI) – a two-day outreach event for state and local law enforcement that includes odor recognition trials and reality-based operational search scenarios for K-9  teams. 
For questions about the program or other initiatives such as REDDI, contact SandT.PCS@hq.dhs.gov.