IACP 2012: DHS Secretary Napolitano addresses nation's chiefs
DHS wants to give every cop in the country ready access to information, intelligence, and analysis to prevent attacks by extremist individuals and groups
---
SAN DIEGO — Two years ago at IACP 2010 in Orlando, Secretary of the Department of Homeland Security Janet Napolitano commented that American law enforcement was at a crossroads in how we approach our nation's security, facing new and increasingly complex threats.
During remarks made at the opening of the 119th Annual IACP Conference and Exposition in San Diego on Saturday, she continued on that theme, stating that those same threats continue to put local law enforcement "on the front lines of our counterterrorism efforts in a way that's unprecedented in our nation's history."
Napolitano stated that in the past four years, great strides have been made to break down barriers between law enforcement entities and create new systems for information sharing because those threats "required us to fundamentally recast how the Federal government works with our state, local, tribal, and territorial law enforcement partners."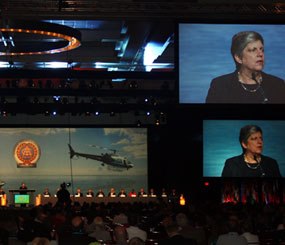 Dealing with the Active Shooter
Top of mind for every level of law enforcement — from chiefs of police to patrol officers on the streets — is the threat posed by the modern-day active shooter.
"We have seen a series of international and domestic incidents involving the so-called active shooter. This includes incidents here at home in cities, small towns, and suburbs. It also includes the sophisticated multiple-shooter 2008 attack in Mumbai and the 2011 Norway attack conducted by Anders Breivik," Napolitano said.
"It is often difficult to prevent, to mitigate or to lessen the harm of such an attack, yet after-the-fact analysis often reveals some early clues as to a person's intent."
DHS, FBI, and IACP have been working together to help understand the behaviors and indicators which sometimes can be seen — if you're looking and paying attention to them — which could help prevent future attacks.
In particular, they have assembled classified and unclassified case studies of past attacks for distribution to front line police officers to digest some of those pre-incident indicators based on analysis of past attacks.
"We now know, for example, that our immediate response to an active shooter situation must assume it could be part of a larger attack, and not just a self-contained event, so our planning in advance must take that kind of operation into account." 
IACP, DHS, and SARs
The IACP was instrumental in the efforts made by DHS in recent months to improve the manner in which — and the speed with which — information contained in Suspicious Activity Reports (SARs) is shared with Joint Terrorism Task Force and the 70-plus Fusion Centers across the country.
To date, nearly a quarter of a million police officers have been trained in the new SARs initiative, and agencies across the country have adopted policies which have raised awareness among the public as to how they can help police prevent possible attacks. 
Napolitano told the assembly of IACP members that because of that effort by IACP, the dividends in increased security have already been seen, and potential plots have been thwarted because suspicious activities were reported, withinformation being quickly shared, analyzed, and put to use.
She cited one example — the case of Khalid Ali-M Aldawsari — in which an employee of a Carolina Biological Supply in North Carolina tipped off police about a suspicious attempt to purchase a $435 order  of chemicals which could potentially be used to make explosives.
Meanwhile, halfway across the country, an employee at the shipping company Aldawasari wanted to use to deliver his chemicals also became leery and reported Aldawasari's suspicious activity to Lubbock (Texas) police.
"Two employees in two states, reported suspicious activities," Napolitano said. "The information was analyzed and connected by law enforcement agencies trained in SARs, and contributed to the arrest of the individual." 
Aldawasari was convicted in June of attempted use of a weapon of mass destruction.
New Web Portal for CVE
Throughout her remarks, the clear theme was the message that DHS is rigorously pursuing the goal of ensuring that every law enforcement professional in the country has ready access to information, intelligence, and analysis to prevent attacks by extremist individuals and groups.
She told the audience of police chiefs that "at every step the IACP and our many colleagues in law enforcement have informed and strengthened the programs and initiatives put in place since the terrorist attacks on 9/11."
That coordinated effort continues, she said, with the creation of a new web portal for information intended to help to countering violent extremism (because we're talking about the Federal government, we're all but required to call it CVE).
"As you know, local authorities and community members are often best able to identify warning signs and to intervene before an act of violence."
DHS has increased its efforts to aid local law enforcement with grants to meet this threat, and recently created a new CVE training and resource web portal dubbed Joint CVE. This online resource, which was developed in close partnership with the IACP and other law enforcement associations, is now available to federal, state, local, tribal, and territorial police agencies. 
"Countering violent extremism is a responsibility we all share," Napolitano said.