LEOs conduct large-scale, active-shooter response exercise in S.C.
Training not only prepares deputies and other responding officers, but enhances the public's confidence in LE ability to protect them from any and all threats
---
A report of an "active shooter" at an elementary school in Columbia, South Carolina, launched a major active-shooter response exercise for the Richland County Sheriff's Department (RCSD) on July 17 with scores of RCSD deputies and other first responders converging on Jackson Creek Elementary School about three miles from the U.S. Army base at Ft. Jackson.
Aware that there would be an exercise, but unaware of the time or location, RCSD patrol deputies received the alert at 1:00 p.m., as did units from the Columbia Fire Department, which helped cordon off a perimeter of at least two miles around the school.
In less than three minutes, deputies were on scene and quickly swarming the school as roadblocks and an incident command center were simultaneously set.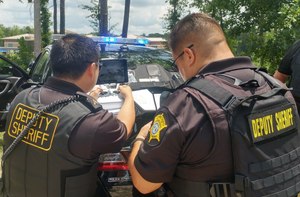 Special Response Team operators (approximately 20 tactical officers including explosive ordnance disposal experts) and emergency medical technicians also deployed quickly to the scene, as did RCSD's Crisis Management Team – including hostage negotiators – while drones from RCSD's aviation unit hummed overhead.
"This kind of training is not only necessary both for our deputies and other responding officers, but it is deliberately designed to further enhance the public's confidence in our ability to protect them from any and all threats," said Richland County Sheriff Leon Lott, who early in his career served as a sniper on one of RCSD's predecessor SWAT teams. "We are good at what we do, and every member of this department is committed to ensuring that we only get better."
In addition to the first responders, some 100 "civilian" role players participated in the exercise, including three mock suspects. The friendly numbers laid out for responding deputies were 667 students (including 20 wheelchair-bound students) and 100 faculty members.
RCSD officers quickly gained command of the targeted school and all adjacent grounds and spaces; and suspects were seized in mere minutes. Total time from the initial alert to the neutralizing of all threats – to include the defusing of a mock bomb – was about one hour.   
Employing nearly 900 personnel, including more than 700 deputies and other sworn officers, RCSD is one of the largest law enforcement agencies in South Carolina. It is one of six regularly featured law-enforcement agencies on A&E's hit television series, LIVE PD.