Rapid Response: Nashville Metro PD showed us how active shooter response is done
What lessons from the incident today in Tennessee can you take with you if the next active shooter incident happens in your jurisdiction?
---
PoliceOne Rapid Response articles are intended to provide quick observations, ideas and further questions for discussion regarding significant law enforcement incidents and issues. Sound off with your thoughts in the comments section below.
What Happened: About 1315 hours on August 5, a 51-year-old man entered a theater in Antioch (Tenn.) during a showing of the new "Mad Max" movie. He was reportedly armed with a firearm, hatchet, pepper spray and possibly explosives.
According to reports, two Nashville Metro PD officers working a traffic collision near the mall ran to the scene and exchanged gunfire with the attacker. A larger team of officers quickly arrived and killed the attacker in a second exchange. 
According to police and EMS PIOs, the grand total of injuries to citizens in this attack was three people who were sprayed in the face with pepper spray and one who was struck with the hatchet (resulting in a bruise). All the victims were treated and released. No one was transported to a medical facility!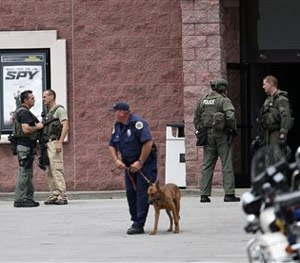 Why it's Significant: We just witnessed a copycat active shooter incident which resulted in no serious injuries, except to the attacker who was killed by responding police officers. To the officers of Nashville Metro PD: have a well-deserved cold one because you just demonstrated for us a perfect example of active shooter response. 
Top Takeaways: As always, this snapshot analysis is based on incomplete information sourced from the open media. By tomorrow some facts will change, but Nashville is way out front with press releases from official PIOs, so we can draw some initial conclusions which should hold up well. 
With a couple of other high-profile active shootings in the last few weeks — including another theater shooting — and the soon-to-be-announced sentencing of the original Aurora theater shooter, we are likely to see more shootings or attempted shootings. The next copycat may possibly have plans to strike soon. So, what lessons from the incident today in Tennessee can you take with you if the next active shooter incident happens in your jurisdiction?
1. Never discount luck. Two uniformed officers were within sprinting distance of an active shooter attack. We know they had sidearms and were not able to finish the fight, but all indications suggest they drove the attacker away from potential victims.
2. Don't wait for backup. These events happen very fast and saving lives requires the quickest possible response. There were two officers available for this response — according to the information we have right now — but go alone if you must. Since even a single officer will likely have a longer response time than we saw today, you must throw it in park and "Go! Go! Go!" while the car is still rocking from your sliding stop.
3. Go in hard and go in heavy. Take only enough time to grab your patrol rifle and a spare magazine or loaded "go vest." If you must carry the rifle/vest in the truck, pop the trunk as you arrive. Taking a patrol rifle (ideally equipped with quick, forward-mounted 1x optics) gives you firepower, precision and reach. Lieutenant Colonel Dave Grossman said it best: "taking a rifle to a gunfight is like taking a chainsaw to a knife fight."
4. Communicate! Get as much info as you can and relay it by radio to all arriving officers. They'll be the ones with sufficient manpower to form a rapid-deployment team and give you the best possible backup. In Tenn., the follow-up team needed gas masks to enter the scene because the attacker used so much pepper spray. The bomb squad detonated at least one of the attacker's backpacks, because of suspected explosives. Getting out on-scene intel as quickly as possible allows the incident commander to order the necessary specialized resources.
What's Next: This attack near Nashville may become one of the next watershed events in the evolution of police response. Utilizing rapid-deployment training is great stuff. According to the media, Nashville Metro recently conducted refresher training at a closed commercial facility. But the original training which revolved around four-officer teams has evolved into a solo officer response, which is the best chance to save lives. Nashville Metro saved lives  and moved the standard up a notch. What is your agency doing to take your response to that level? 
Further Reading:
3 key takeaways from the Lafayette theater shooting
Downrange EMS: Critical care when the scene isn't safe
Rapid Deployment: Version 2