Roundtable: How the Las Vegas shooting changed special event response
How has the Route 91 Harvest festival shooting changed LE response to special events?
---
By Police1 Staff
Immediately following the Route 91 Harvest Festival shooting in Las Vegas on October 1, 2017, former and current LE and other experts predicted the attack would alter the training at many agencies to include more of a focus on threats posed by high-rise snipers or others who kill from long distances.
We asked Police1 editorial advisory board members and columnists how this incident has changed special event response and active shooter training and what departments should be doing to train and prepare to respond to special events at public venues in their jurisdiction.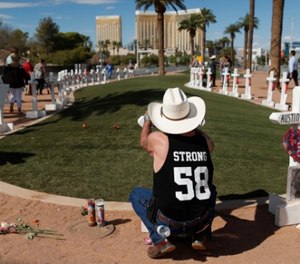 Increase training for public venue protection
The attack on the Route 91 Harvest Festival helped to confirm that we're on the right track with our tactical emergency casualty care and active shooter training. The patrol officers who responded to the incident made excellent use of their skills in these vital areas, and we need to continue our efforts to expand and improve this training.
However, the attack also highlighted some training and manning shortfalls. The attack caused a huge spike in the demand for additional police coverage at public venues, which has stretched police resources thin. There simply aren't enough trained assets to handle normal business and still fulfill the demand for special missions like sniper overwatch, immediate reaction teams, explosive ordnance disposal, K-9 and other tactical assignments. The demand from event hosts for these special capabilities will only increase with time, so agencies must expand their training efforts in these areas. The roster of officers with the desired specialist skills must grow to meet the ever-increasing demands of public venue protection.
— Lieutenant Colonel (ret.) Mike Wood, author of "Newhall Shooting: A Tactical Analysis"
Expand routine planning with a PACE plan
The October 1, 2017, mass shooting in Las Vegas may be the harbinger of critical incidents to come, whether by foreign or domestic terrorists, or even by the disgruntled gambler with a grudge. The fact that we haven't seen similar events probably is not due to the diligence given to similar events and large gatherings, but by sheer luck. Debriefings of the event have occurred at law enforcement gatherings and conferences, yet the motive of the lone gunman remains a mystery.
The burden to plan for large events should be shared by event organizers, venue operators and law enforcement on the local, state and federal levels. A critical infrastructure evaluation of the venue on par with the national standard must be done before event approval is given. Local government must have the fortitude to deny a request for an event to be held if adequate resources are unavailable for the event. Multiple smaller events may be an alternative to one large event that may be difficult to manage. Buildings with a threat potential shall have a security plan to identify guests and large shipping containers or multiple items beyond luggage shipped to rooms.
With thousands of large events occurring each year across the United States, planning should be in accordance within the Incident Command System (ICS) and include a PACE plan: Primary Plan, Alternate Plan, Contingency Plan and Emergency Plan. Event planning has always included the motto, "plan for the worst, hope for the best." Hope will not prevent disasters nor save lives. Large-scale events should include input and resources from the event promoter, venue operator, police, fire, public health, EMS, city or county representatives and state and federal agencies. The Department Operations Center (DOC) should request when a PACE plan should be escalated to the next level or even the emergency plan as an incident develops.
Plans should include:
An Emergency Operations Center Activation (EOC) offsite with representatives from each discipline above staffing the ICS positions;
An onsite Department Operations Center (DOC) with a law and fire branch joint Incident Command to have direct communications and management of the event;
State and federal resources should assist with security screening, including EOD K-9 unit for use before and during the event;
Mutual aid agreements with identified staffing for event dates from nearby jurisdictions;
Air and or water support where appropriate;
On-site or rapid deployment of critical incident response (CIRT), SWAT or mobile field force response teams from nearby locations;
Plans for evacuation or shelter in place (with multiple routes identified);
Medical staff on hand with transportation resources to pre-identified emergency rooms and trauma centers
De-mobilization and debriefing plans.
Of course, all of this is cost prohibitive, so local jurisdictions need to assess the event and all of the possible variables to decide if the event should go on. Otherwise, hope may be all we have to avert another similar disaster.
— James Dudley, deputy chief (ret.), San Francisco Police Department
Deploy aerial technology for special event response
I believe that since these tragic events active shooter training has remained virtually unchanged, which I agree it should. Unfortunately, I believe the same may be the case for special event response. The fact that special event response was forever changed by these tragic events has gone overlooked by most agencies I believe because a lack of resources. Most agencies don't have access to drones and other aerial thermal equipment that could aid in securing and responding to active assailants at special events. Local law enforcement agencies should begin to seek out partnerships with federal agencies that have these resources. In addition, local law enforcement agencies should begin to lay the ground work with their funding authorities to secure these resources locally. Most agencies don't have the people power to provide adequate overwatch protection for special events so that's why it's imperative we begin to make full use of available aerial technology.     
— Booker Hodges, undersheriff, Ramsey County Sheriff's Office, Saint Paul, Minnesota
Control the high ground, walk the area
When this happened, it brought to mind what we did for our riots and when we guarded presidents and other VIPs beyond normal security. That is we always controlled the high ground. We always had a sniper observer on the controlling highest point overlooking the vulnerable area. That person could spot and call in potential trouble for officers to address.
We also conducted regular window scans. It is very easy to scan a line of tall buildings and determine if one is open or broken out, night (check for reflected moon or street lights) or day. If one was open, we would monitor or actually go up and investigate.
If the event was near the water, we had a boat out controlling access and ready to respond.
One other piece of advice is to walk the area to check out potential hides, checking even sewers. Ask yourself: "If someone wanted to do some real harm here, how would they do it and where would the attack come from?" Then check that area in advance and watch or secure that area during the event.
— Lt. Dan Marcou, police trainer with 33 years of law enforcement experience
Adapt training as threats evolve
Significant change in firearms training as a result of the Route 91 assault is unlikely. The best hope for responding to an attack from high ground is prevention. Using the Secret Service event planning model of using intelligence sources, reconnoitering of the venue, and engaging inclusive cooperation of public and private entities ahead of an event, gives an agency and their partners a better idea of how to respond from likely points of attack without having to develop an unplanned response.
When we look at the legal environment around firearms training then add factors like leadership, culture and funding, we must recognize the inevitable gradualness of change where training is concerned. Adaptation occurs first in training for special tactical units who, unless strategically deployed prior to and during an event, will not be the first response. Options for the patrol officer will be limited, and the press for training for a host of other issues overshadows the demand for proficiency in the anomalous high ground sniper attack. In short, unless sniper attacks become as ubiquitous in the news as school shootings, the incentive and resources for new doctrine and practice won't exist.
— Joel Shults, chief of police (ret.), Colorado
Conduct integrated active shooter, MCI exercises
In the aftermath of October 1, 2017, agencies nationwide reviewed their special event response and recovery protocols. Several of the October 1 first responders have publicly addressed the need for officers to run active shooter exercises with shots fired from above and the importance of having immediate and on-going access to peer support and other mental health programs to support them in the aftermath.
For law enforcement agencies to be ready to respond to a similar incident in their jurisdiction, they need to implement and practice integrated response active shooter and MCI exercises. Agencies need to include fire, EMS (public and private), 911 telecommunicators and hospitals (at a minimum) in these exercises. During these exercises, it is critical to practice rapid deployment of unified command especially since they know other first responders (e.g., fire, EMS) will arrive and provide aid. Vehicle staging procedures also need to be practiced. Finally, officers need to receive basic training techniques in bleeding control to improve everyone's survivability. The life the officer is saving could be his or her own.
The rapid deployment of an effective multi-agency integrated response plan requires planning, training, and continued education and training as active shooter threats and tactics evolve. Numerous organizations from FEMA, the NFPA and the International Public Safety Association (MCI Symposium this November and Rescue Task Force Best Practices Guide) offer additional research, guidance and training opportunities for officers about integrated response to mass casualty and active shooter events. All officers need to review these items and discuss ways to leverage these educational and training resources available to them.
— Heather Cotter, Executive Director, International Public Safety Association
What has your agency done in the aftermath of the Las Vegas shooting attack to improve security at special events in your community? Answer in the comments below or email editor@policeone.com.
ADDITIONAL RESOURCES ON ACTIVE SHOOTER RESPONSE