8 tips to help you buy your first boat
Driving and owning a boat is nothing like driving and owning a car. Here are some tips to ensure you buy your own Queen Mary and avoid a Titanic mistake
---
Editor's Note: In the following column, Tom Burrell takes a break from his usual police-centric coverage to discuss outdoor gear as part of our new TacticaList series, a collection of expert columns and features on all things tactical — from fishing and hunting to camping and shooting. These columns are featured in our monthly TacticaList newsletter. Check out our most recent issue and let us know what you think! Click here to subscribe to the TacticaList.
America is a maritime nation. The first settlers arrived here by sea, Lewis and Clark blazed a trail to the Pacific by boat and the majority of our borders are water.
So it's no surprise that Americans turn to the water when it comes time to relax and take some time off with the family. Thousand flock to area beaches, lakes and rivers to swim, fish, and lay in the sun. But from Georgia to California, the ultimate dream is to own your very own boat.
According to U.S. Coast Guard, there were 12 million boats registered in the United States and over 88 million Americans reported using boats for recreation purposes. Many of these users were first time boaters and others took the leap and bought their boat. For the majority of new captains, it will be the beginning of a new chapter in life and they will soon forget how they ever enjoyed life on dry land. Others will curse the day they ever gave up golf and will fully embrace the old joke: "The two best days in boat ownership are when you buy your first boat and when you sell it."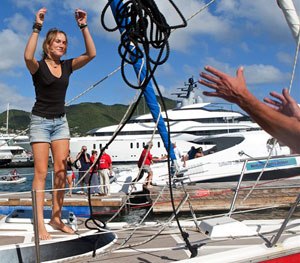 As with any hobby, the key to long-term enjoyment is a positive start and the first step is making sure you have the right equipment. The only thing that will sink your first trip quicker than a rock is spending your hard-earned savings on the wrong boat.
To help you get started right, here are eight easy tips to make sure you buy your own Queen Mary and avoid a Titanic mistake:
1. Shop Around
Visit local marinas, boat dealers and, if possible, tour a boat show so you can see what is available and compare not only prices but available features.  Even if you decide to purchase a used boat, seeing the new models will allow you to determine if you're getting a good deal and if any important changes have been made from previous models.
2. Beware of Purchasing Online
It's fair to say you can get anything on the internet, often at a good price, but boat buyers need to be especially careful of deals that are too good to be true. More than one buyer has made a deal of the century only to find that the boat did not have the paperwork necessary to register or title it, had been in an accident or even stolen.
3. Buy the Boat You Need
While the shiny speed boat may be enticing (and would look really nice behind your truck), it will not do you much good when the extended family wants to float on the lake and barbeque. When choosing a boat, you need to consider many factors besides what you can afford. You need to keep in mind what you will be using the boat for, where you will be using it, and who will be using it. In the end, function might outweigh beauty.
4. Insist on a Test Drive
NA test drive will let you know if the boat handles properly and give you a chance to check out any equipment, such a depth finder, radio, or bilge pumps that cannot be tested sitting on a trailer. Just as important, it will let you make sure it is a boat you can handle as a new user.
5. Have the Boat Inspected
While the test drive is important and will often uncover major problems, an inspection is a must.  Only a qualified mechanic can tell you if the engine is on its last leg or the wiring is ready to set fire to your new dream. If buying a larger boat, especially those designed for overnight travel, you should hire a marine surveyor and obtain a full inspection, bow to stern.
6. Don't Forget the Trailer
Make sure you know if the boat price includes a trailer, especially if it is on the water when you see it. Although you may be able to get by for a while without a trailer, every boat eventually needs to be moved so you should consider the future cost. If a trailer is included, make sure you get it inspected as well, especially if it's been sitting for a while.
7. Factor in Hidden Costs
Remember that there is more to owning a boat than just the boat. Besides the obvious expenses such as gas, insurance and registration fees, you will need safety equipment, there will be dock or mooring fees and often a good bit of maintenance. These unforeseen costs can easily dry dock your dreams.
8. Take a Safety Course
Depending on where you will be boating, and often your age, a safety course may be mandatory. Even if you find you are not required to take a course, it would be a mistake not to. I cannot tell you how many avoidable accidents were the result of boaters not understanding that boating is very different than driving a car – there are not lanes of travel, road signs are replaced by buoys with symbols not found on the highway and right of way has as much to do with what you are operating as what you want to do. A couple hours in classroom are well worth the cost.
Good luck and good boating!