Protests over officer-involved shootings aim at occupying interstates
Major roadways are becoming the focal point for many standoffs between protesters and police across the nation
---
By Rebecca Santana and Michael Kunzelman
Associated Press
BATON ROUGE, La. — Police made nearly 200 arrests in Louisiana's capital city during weekend protests around the country in which people angry over police killings of young black men sought to block some major interstates.
Riot police in full gear stopped a group of protesters in Baton Rouge from walking onto an interstate on Sunday evening, police said, thwarting a protest tactic that social justice activists have increasingly tried in several U.S. cities. Further protests are expected Monday.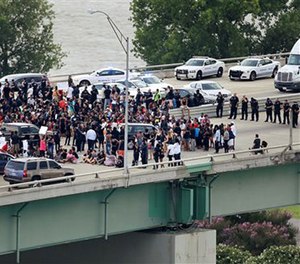 Tensions between black citizens and police have risen since last week's killings of Alton Sterling in Baton Rouge and Philando Castile in Minnesota by white officers, and a retaliatory attack on police by a black sniper in Dallas that killed five officers and wounded others.
DeRay Mckesson, a prominent Black Lives Matter activist who was released from jail Sunday following his arrest at a Baton Rouge protest, accused city police of provoking protesters. Mckesson said he hopes the Justice Department, which already is investigating Sterling's death, also reviews how Baton Rouge police have treated protesters.
"There's a lot of work to be done, with this police department specifically," he said.
More than a thousand people left a Black Lives Matter rally in Memphis, Tennessee, and walked up a bridge over the Mississippi River on Sunday night, temporarily blocking all traffic on Interstate 40.
At a California protest, hundreds of people poured into the streets of Inglewood late Sunday, blocking traffic for several minutes on the 405 Freeway. Authorities told the Los Angeles Times there were no arrests and no reports of violence.
Elsewhere, hundreds blocked a segment of Interstate 94 in Minneapolis-St. Paul on Saturday. And hundreds also blocked motorists recently on part of Interstate 264 in Portsmouth, Virginia. Demonstrators have also tried but failed in recent days to block highways in Atlanta and Columbia, South Carolina.
Some government and law enforcement officials have been outspoken in seeking to discourage protesters from blocking traffic.
"While I appreciate the peaceful intent of this weekend's rallies, I'd ask that we not put our fellow citizens or law enforcement at risk — which is exactly what attempting to block highways does," South Carolina Gov. Nikki Haley said in a statement.
In Louisiana, some 2,000 people rallied Sunday outside the Capitol building, State Police Maj. Doug Cain said, calling that initial protest "very organized and peaceful.
Then, by Sunday night, a few hundred people aimed for an on-ramp of Interstate 110 in Baton Rouge.
After a lengthy standoff, helmeted police in riot gear moved in, pinning some of the protesters as others fled. Approximately 50 people were taken into custody for trying to block a highway, sheriff's spokeswoman Casey Rayborn Hicks said.
A Baton Rouge police spokesman, Sgt. Don Coppola, had blamed the large number of arrests on people coming to Baton Rouge from other cities. Police have confiscated three rifles, three shotguns and two pistols during protests, he wrote in an email.
New Orleans residents accounted for nearly half of the people who were arrested at protests that started Sunday in Baton Rouge, according to a list provided by Hicks. Twelve of them are listed as residents of other states or the District of Columbia.
One officer was hit by a projectile and injured in the weekend protests, authorities said.
At a press conference before Sunday's arrests near the interstate, Louisiana Gov. John Bel Edwards said he was "very proud" of his state's law enforcement response. Edwards said he didn't believe using riot gear to push protesters away from a highway was overly aggressive.
"I can assure everyone we are hearing the protesters," the governor said. "We are listening to their voices. But I'm especially gratified that our citizens here in Louisiana, to a very large degree, have decided to protest in a constructive and peaceful manner."
Kira Marrero, a 22-year-old resident of New Orleans who graduated last year from Williams College in Massachusetts, was the first protester freed from Baton Rouge's jail on Sunday. She accused police of acting in an "inflammatory" manner and said an officer had pointed a rifle at her and other protesters before her arrest.
"I didn't get beat or pushed around or anything," she said, "but the way they talked to you is just really disrespectful, and I feel they were clearly trying to start something."
Copyright 2016 The Associated Press