Parolee charged in 'execution' of L.A. sheriff's sergeant
Trenton Trevon Lovell could make him eligible for the death penalty if he is convicted for the fatal shooting of Sgt. Steve Owen
---
By Veronica Rocha and Nicole Santa Cruz
Los Angeles Times
LOS ANGELES — Dave Young waited in the Antelope Valley courthouse hallway on Friday for more than an hour to see the man accused of killing Los Angeles County sheriff's Sgt. Steve Owen.
Young, 54, wore a black Sheriff's Department bomb squad shirt, given to him as a gift by Owen and the sergeant's wife, who is a detective in the department's Arson Explosive Unit.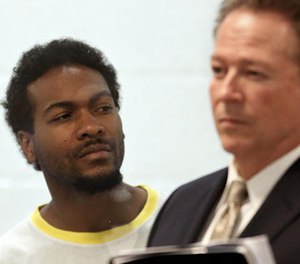 It had been two days since Young  rushed to Antelope Valley Hospital to see the wounded lawman before he died. He held his hand until Owen's wife could arrive.
"I wanted to see the guy that killed my friend," he said in the hallway of the Lancaster courthouse.
Then Trenton Trevon Lovell appeared in court for the first time since his arrest.
About a dozen uniformed sheriff's deputies watched the handcuffed man as he walked into a holding area for inmates.
The sight of Lovell, Young said, brought about a "flood of emotions." Anger was one of them, he said.
Lovell, a parolee with an extensive criminal history, was charged with murder Friday in Owen's death. He faces additional charges: attempted murder of a second sheriff's deputy, being a felon in possession of a firearm, and two counts each of residential robbery and false imprisonment. Lovell, 27, of Lancaster, was ordered held without bail.
The charges could make him eligible for the death penalty if he is convicted, according to the Los Angeles County district attorney's office. Prosecutors will decide later whether to seek the death penalty.
Inside the courtroom, Lovell did not look Superior Court Judge Richard Naranjo in the eye as he called the case. In a separate area, family members blew Lovell kisses as deputies looked on with strained faces.
After the hearing, Deputy Dist. Atty. Michael Blake declined to comment on the specifics of the case but said there is a possibility Lovell could face additional charges. He said the decision to seek the death penalty is a careful and complicated process.
Authorities said Lovell was on active parole when he encountered Owen, 53, outside an apartment complex Wednesday afternoon with a stolen gun.
Sheriff Jim McDonnell, who refused to speak the suspected gunman's name at a news conference this week, called the slaying a "calculated execution." He said the shooter wounded Owen, then stood over his body and pumped an additional four rounds into the lawman's body.
After the killing, authorities said, Lovell ran to the front of the apartment complex and tried to steal Owen's cruiser. A second deputy confronted him and opened fire on the cruiser, but Lovell threw the car into reverse and rammed a second patrol car, which struck the deputy and injured him, authorities said. Lovell was shot and wounded in the shoulder, officials said.
Lovell jumped out of the cruiser and ran into a nearby home, where two teenagers were inside, sheriff's officials said. Prosecutors said he held the teens hostage at knife point. One teen texted a message to his mother, who alerted authorities.
Sheriff's SWAT deputies entered the home to rescue the teens. Lovell fled out the back and was captured after he jumped over a fence into a neighboring backyard, authorities said.
Lovell's rap sheet dates back to when he was a juvenile selling marijuana, McDonnell said. From there, he racked up 11 arrests, two of which landed him in state prison, the sheriff said.
Prosecutors said Lovell was convicted of robbery as a juvenile in 2006.
In 2008, he pleaded no contest to resisting arrest and was given a 90-day jail sentence. Months later, he was arrested on suspicion of pointing a gun at an off-duty USC security officer and robbing him of his wallet, cellphone and watch near campus. He pleaded guilty and was sentenced to six years in prison, according to Los Angeles County Superior Court records.
Lovell served roughly five years in custody, according to California Department of Corrections and Rehabilitation records. As a prisoner, he served his time in multiple locations, including in Oklahoma, Arizona and various prisons in California, said Luis Patio, a spokesman for the state Department of Corrections and Rehabilitation.
Lovell was paroled June 23, 2014. His parole was scheduled to end next year.
Last year, he pleaded no contest to driving under the influence of alcohol and causing injury to another person, court records show.
Lovell was ordered to complete a nine-month first-offender program for drunk drivers and enroll in a drug and alcohol counseling program. In that case, he was ordered to serve 15 days of jail, and given 36 months of summary probation, according to Frank Mateljan, a spokesman for the Los Angeles city attorney's office. He was scheduled to appear in court Oct. 24 for a progress report.
It's unknown whether Owen ever encountered Lovell before Wednesday's shooting.
Owen, a 29-year veteran of the Sheriff's Department and a Medal of Valor recipient, was a well-known sergeant who volunteered as a football coach in the community.
As Lancaster mourned his killing, even people who had been arrested by Owen visited the city's sheriff's station to pay their respects.
On Friday, Lancaster Mayor R. Rex Parris said he plans to ask the City Council to rename Lancaster Community Park after Owen. If approved, the space would be named "Sergeant Steve Owen Community Park."
Owen had worked most of his law enforcement career in the Antelope Valley.
Young said he had been friends with Owen for about 15 years.
At the court hearing, Young said he noticed a man in a sheriff's uniform with flat-top haircut -- like Owen's -- walk into the courtroom.
For a fleeting moment, he thought it was Owen.
"You know it's not," he said.