How San Diego PD is enhancing its outreach to kids
The Bigs in Blue mentoring program connects youth with police in communities throughout the nation, building strong, trusting and long-lasting relationships
---
San Diego Police Chief Shelley Zimmerman – who joined the department in 1982 and became chief in March 2014 – recently attended an event hosted by the San Diego Padres to celebrate her agency's participation in a new program offered by Big Brothers and Big Sisters called Bigs in Blue.
Bigs in Blue is a mentoring program that connects youth with police in communities throughout the nation, building strong, trusting and long-lasting relationships. Through the program, police officers volunteer as Big Brothers or Big Sisters for kids between 7 and 17 years old who need and want a mentor in their lives.
The program builds bridges of communication to offer youth a positive perspective about the police, while providing police officers with the opportunity to make a difference in the life of a child.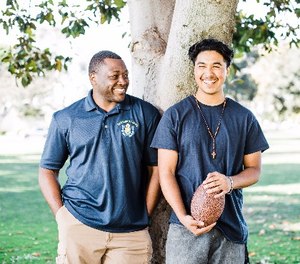 Expanding on SDPD's existing outreach programs
The SDPD already has a tremendous relationship with the San Diego community, particularly with the youth of the city. Officers and command staff from SDPD attend more than 400 community events every month, as well as going door-to-door in every neighborhood in the city. Those LEOs spend thousands of hours every year enhancing the department's community partnerships.
"We literally go door to door to give a voice to the voiceless, because we know it is difficult for people to attend the town hall or go to city council to make their opinions known," Chief Zimmerman said.
"Part of our community policing philosophy is to visit with the community – sit on a porch, sip some iced tea or lemonade, or to walk into one of our beautiful parks or walk around the beach to just say hello to community members and start a conversation. We know that for us to be successful, we need the trust of our community, which is a community that needs us," Zimmerman said.
The City of San Diego is known as a major tourist destination, but is also a busy place for the officers of a badly understaffed police department. San Diego has one of the busiest international borders, with about 50,000 cars and 25,000 pedestrians crossing the border every day. It also has the largest military footprint in North America.
"We received more than 1.4 million calls to our communication center last year, which is why Bigs in Blue is so important. Let's face it, when somebody calls us, it's not for something good. It's because something bad has happened. We don't get calls saying, 'Please hurry, our child made honor roll,'" Zimmerman said.
Adding Bigs in Blue to the SDPD citizen outreach programs further solidifies the department's current community policing strategy.
"Our police officers courageously patrol our streets every day, investigate crime and hold those who victimize our loved ones accountable for their actions. But the reality of doing this honorable and noble profession is that we are often seen in a negative light," Zimmerman said.
Zimmerman believes the Bigs in Blue program enhances the department's already extensive efforts to build stronger bonds between law enforcement and the families they serve. SDPD adds Bigs in Blue to existing youth programs such as its Police Athletic League, the program called Making Changes (which helps underserved kids graduate from high school), Girl League (which teaches girls about self-esteem and leadership), Man Up (which teaches young men about responsibility), and other outreach programs.
The agency has a program called Homework Assistant, in which remedial help is offered to students studying in libraries at various locations. In addition, the PD also has a Cadet Program for people 16 to 21 years old.
"We want our youth to fall in love with the profession and then join our department," Zimmerman said. "Several cadets have gone on to be police officers. We had one who started as cadet and is now a captain in our department – these are huge success stories, as it makes all the difference when we have the trust of our communities. Bigs in Blue is just the next evolution. We are thrilled to participate, but we are already investing in the youth of our great city," Zimmerman said.
Community outreach as crime prevention
San Diego PD's motto is "to maintain peace and order by providing the highest quality police services." Zimmerman sees programs like Bigs in Blue as a crime prevention tactic as much as a community outreach effort.
"Would you prefer to have the best cardiologist after you've had your heart attack or would you prefer to prevent the heart attack? We all want to prevent the heart attack. Let's prevent the burglary so that our mothers, fathers, our friends, our neighbors, our brothers, our sisters are not victimized by crime. That's what this means. There are real people who were not victimized because we're all working together. When you bring youth and law enforcement together today, you build safer communities for tomorrow."