Angry cow runs over Wash. officer during hour-long frenzy
The officer suffered a leg injury
---
Associated Press
LONGVIEW, Wash. — A cow that escaped a county fairgrounds in southern Washington was killed after it ran over an officer and its owner.
The Daily News in Longview reports the cow somehow got out of the Cowlitz County Fairgrounds Tuesday afternoon and strode through Longview.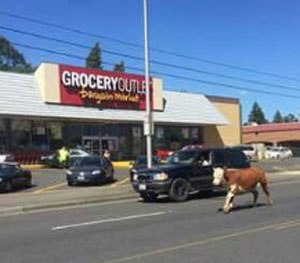 The farm animal, estimated to weigh 800 pounds, at some point charged out of a slough and ran over an officer who suffered a leg injury.
Longview Police Department patrol officer Mike Berndt says the cow then took off running. During an hour-long frenzy, it also ran over its juvenile owner, dented several patrol vehicles and ran into two other cars.
Police used a taser on the cow and then killed it with a shotgun in a residential yard.
Copyright 2016 The Associated Press