Cops wrangle 10-foot python slithering in Texas neighborhood
The snake was able to escape its enclosure and into a suburban area
---
By Mitchell Willetts
The Charlotte Observer
CIBOLO, Texas — A Texas man was walking his dog early in the morning when a huge snake came slithering into view, prompting a call to police.
Officers with the Cibolo Police Department responded to the address around 4:30 a.m. on Aug. 10, ready to wrangle the reptile, a department spokesperson said.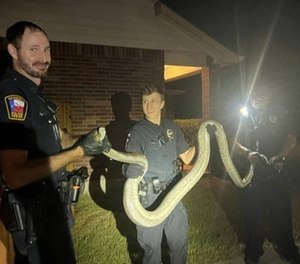 Cibolo is about 25 miles northeast of downtown San Antonio.
What officers found when they arrived was not like any typical Texas snake.
An angular head gave way to a thick body measuring at least 10 feet long, and officials could tell pretty quickly, this snake probably wasn't from around here.
With strategic use of a recycling bin, officers captured the serpent and it was handed off to Texas Game Wardens, according to the department.
The snake is a reticulated python, Game Warden Wei-Wei Startz told McClatchy News.
One of the longest species of snake in the world, reticulated pythons are indigenous to much of Asia. They aren't native to the U.S. and can be highly destructive to the local wildlife, as invasive populations in Florida have shown.
This particular snake turned out to be an escaped pet, according to Startz. It managed to slip out of its enclosure and into suburban Texas, where it was luckily caught.
After a brief stay at an area snake farm, the python was reunited with its owner.
It is legal to keep reticulated pythons as pets in Texas, as well as a number of other non-native snakes, with the proper permit, according to the state Parks and Wildlife Department.
[NEXT: 15-foot snake shot by cops while wrapped around man's neck]
©2022 The Charlotte Observer. Visit charlotteobserver.com. Distributed by Tribune Content Agency, LLC.
McClatchy-Tribune News Service