LAPD cadet scandal: Joyrides in cruisers went on for weeks
The teens used police cars on joyrides that took the vehicles as far away as Corona and Santa Clarita
---
By James Queally and Kate Mather
Los Angeles Times
LOS ANGELES — If the group of young Los Angeles police cadets accused of stealing department vehicles had any fear of getting caught, they certainly didn't show it.
For weeks, according to documents, the teenagers used police cars to drive to and from Los Angeles Police Department-related events and on joyrides that took the vehicles as far away as Corona and Santa Clarita. Some of the cadets used the vehicles to perform "doughnuts" behind an Inglewood store and one drove a stolen LAPD vehicle to his job at a store in Hawthorne.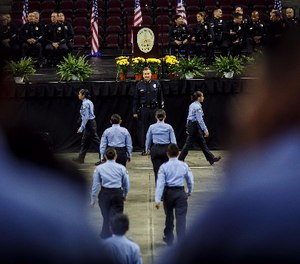 There were other blatant actions: A high-ranking cadet described as "the ringleader" of the group asked someone to film him driving a cruiser, and they often drove with flashing lights and sirens blaring — in one instance racing through South L.A. to Hawthorne to move one teenager's personal vehicle before it was towed.
Still, it took Los Angeles police nearly two months to discover the cadets' alleged misbehavior and take action.
The new details about the alleged activities are contained in a search warrant recently obtained by The Lost Angeles Times.
As police continue to investigate the cadet scandal, the key question is less why the cadets took advantage of their positions but why their actions went undetected for so long.
"What they were doing was stupid, but they weren't exactly stupid," said Deputy Chief Horace Frank. "They were smart enough to try to hide their activities to the best of their knowledge."
Frank said LAPD personnel who might have seen the cadets driving the police cars could have reasonably assumed they were simply younger officers.
"When you look back, you can say, 'Well, how come no one noticed that?'" Frank said. "We have a lot of young-looking officers. … There's so many officers that are looking like that, we're at that stage where it's not that odd until after the fact."
The new disclosures are contained in court papers related to Robert Cain, a former LAPD officer accused of having sex with a 15-year-old female cadet while he was on the force. Luis Carrillo, the girl's attorney, said the alleged transgressions and the delay in uncovering them show that the department needed much closer handling of the cadets.
"You can't have cadets in uniform leaving in a patrol vehicle with so many officers around, so many officers patrolling," Carrillo said. "This would be highly noticeable the minute they drive out of the station."
Capt. Robert Long, who heads the LAPD's Major Crimes Division, said detectives expect to present findings from their investigation to the Los Angeles County district attorney's office in the coming days.
Long confirmed that the cadets first took an LAPD vehicle on April 28, weeks earlier than the department had previously disclosed.
LAPD Chief Charlie Beck has acknowledged flaws in how the cadet program was run. The scandal led to investigations by the LAPD and its inspector general that revealed lax oversight of the cadets and training for the officers involved in the department's youth program. The LAPD made a series of changes, tightening supervision and training and limiting officers' social media and text message contact with cadets.
The cadet program was suspended at two LAPD divisions as a result of the scandal. The program has resumed at one of them and could return to the other this month, said Josh Rubenstein, an LAPD spokesman.
The Times is not identifying the cadets named in the warrant because many of them were juveniles at the time of their alleged misdeeds. Those cadets either declined to comment for this story or did not respond to phone calls or messages left by Times reporters.
The cadet controversy exploded June 14, when three teenagers led police on a two wild car chases that ended in crashes in South L.A. In a subsequent investigation, Cain, a 10-year LAPD veteran, was arrested by Beck himself on suspicion of having sex with one of the cadets.
Cain remains jailed in San Bernardino County, where he is awaiting trial on weapons charges stemming from a search of his Rancho Cucamonga home. In July, Los Angeles County prosecutors charged him with oral copulation with a person under the age of 16, lewd acts upon a child and unlawful sexual intercourse, but have said their case will not proceed until the weapons charges are resolved.
In all, seven cadets were arrested and accused of taking police cars and other LAPD equipment, including Tasers, radios and a bulletproof vest. Some were also accused of stopping other drivers while in the police cars.
©2017 Los Angeles Times
McClatchy-Tribune News Service