Manhunt suspect caught after knocking on door, asking to use phone
A resident called deputies to report that a 'suspicious' man had just come by and asked to make a call
---
By Tanni Deb
The Atlanta Journal-Constitution
CHEROKEE COUNTY, Ga. —A Cherokee County homeowner had a late-night visitor who turned out to have been running from the cops for hours Monday, authorities said.
It started around 3:30 p.m. when a deputy saw a GMC Yukon speeding with a flat tire near Land Road in the Clayton community, Cherokee sheriff's spokesman Capt. Jay Baker wrote in a news release. The deputy followed the car and witnessed the tire tear apart and come off, causing 28-year-old James Prince Haley of Ball Ground to crash his vehicle, Baker said.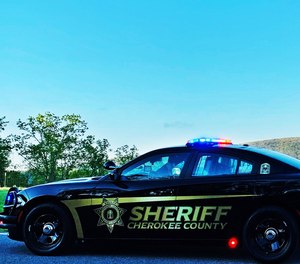 Haley then ran into the woods and the deputy chased him, but wasn't able to find him.
"A perimeter was established and the K-9 unit responded to the scene," Baker wrote. "After an extensive search of the area, the suspect was not located."
Around 11 p.m., a resident in the area called police to report that "a suspicious person" showed up at their house and asked to use the phone, according to the release.
"Deputies converged on the area and the suspect fled into the woods when they arrived at the residence," Baker said. "With the assistance of the Georgia State Patrol Aviation, the suspect was located behind a residence in the Bethany Farms subdivision a short time later."
[READ: 7 factors to consider when purchasing a public safety UAS]
According to Baker, the GMC Haley drove was reported stolen out of Texas. Authorities added that Haley had outstanding warrants for three counts of violation of probation, obstruction of an officer and fleeing and attempting to elude police.
After Monday's manhunt, Haley is also being charged with reckless driving, obstruction of an officer, theft by receiving stolen property and fleeing and attempting to elude police in Cherokee.
Haley was booked into the Cherokee Adult Detention Center with no bond, Baker said.
(c)2020 The Atlanta Journal-Constitution (Atlanta, Ga.)
McClatchy-Tribune News Service