7 factors to consider when purchasing a public safety UAS
A UAS can be a powerful force multiplier for public safety agencies that is a safe, efficient and effective way to increase mission capabilities
---

Editor's note: Law enforcement agencies nationwide are adopting unmanned aerial systems (UAS) – also known as drones – for operations as diverse as search and rescue, traffic accident reconstruction and SWAT response. PoliceOne's special coverage series – 2018 Guide to Drones in Law Enforcement – takes an in-depth look at considerations for police departments looking to implement a UAS program.
By Michael Uleski, P1 Contributor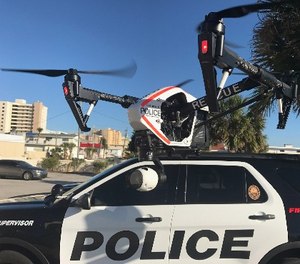 The past few years has seen an explosive growth of unmanned aerial systems (UAS), more commonly referred to as drones. We have seen drones go from fun toys to efficient business tools.
For public safety, a UAS offers a safe, effective and affordable option to have as an aviation asset immediately available for a variety of missions.
In 2015, approximately six agencies in the United States had an active UAS unit. In 2017, over 350 agencies had an operating UAS unit. This year is on pace to grow that number exponentially.
With many UAS options, it can be difficult to know which system is right for your agency. This article outlines some of the most important factors to consider when purchasing a public safety UAS.
Things to consider
From quadcopters and hexacopters to tethered systems and advanced sensors, there are a lot of UAS options on the market.
Many UAS models have been developed to meet a specific mission requirement, while others provide a wider range of general mission capabilities.
Here are 7 factors that are important for police departments to research prior to making a UAS purchase:
1. Flight time for a police uas
This is typically the first question new UAS owners ask and is a critical factor to having a UAS that is effective for public safety missions. Most UAS are capable of flight times of 20-30 minutes, with more expensive models having flight time capability of 50 minutes. In addition to onboard battery power, tethered systems allow the UAS to be powered from a ground power unit that can allow indefinite flight times for long duration operations.
2. Weather capabilities 
All UAS for public safety must deal with the weather, specifically wind, which can be a limiting factor regarding the mission capabilities. Depending on the model, some smaller UAS have a maximum wind speed capability of 20mph, whereas a larger, more powerful aircraft can effectively deal with winds in excess of 35 to 40mph. In addition to wind capability, various models allow for all-weather capability and are considered waterproof.
3. Sensor availability
Many UAS are able to utilize sensors beyond the visual electro-optical (EO) camera. Zoom cameras provide the ability to have an effective standoff from the operational area. Thermal cameras allow for the detection of radiated heat. Infrared allows for the ability to see at night and LiDAR provides exceptionally accurate data for crime and accident scene documentation. Different UAS models may provide for plug-and-play installation of different sensor options, multiple simultaneous sensor mounting locations, or a single use installation.
4. Payload installation and deployment capability
Having the ability to carry various payloads expands the mission profile of the public safety UAS. Installed payload options include spotlights, HAZMAT sample cards, gas monitors and radio frequency tracking antennas. Deployable payload examples include life preservers, survival bags, GPS tracking units and small tools. In some cases, a grapple system can be utilized to pick up an item and then carry it to another location.
5. Dual operator capability
During some public safety operations it can be more effective to have the flight crew consist of both a pilot and a sensor operator. Various models allow the sensor operator to control the camera or sensor unit, allowing the pilot to concentrate on flying the UAS. This can be effective during search and rescue or suspect pursuit missions.
6. Manufacturer support
There has been significant growth in the number of UAS manufacturing companies. Always consider the ability to receive customer support from the manufacturer of your UAS. The purchase of a sophisticated system can be a significant financial investment for an agency. Having a UAS that becomes unsupported or unrepairable after purchase can be problematic.
7. police uas Cost
Cost is always a major consideration, and typically the primary factor when purchasing a UAS. It is important to lay out a detailed list of needs and wants related to your public safety mission requirements. The needs must be met to be effective, and the wants are extras that would expand your mission envelope, but are not required to be effective for your primary mission. Also, make sure to include other necessary costs of accessories, extra batteries and, most important, training.
How to Pay for A Public Safety UAS
Even though a UAS is considerably more affordable than a manned aviation unit, it is still an expense that must be properly budgeted.
Many agencies will find themselves spending a minimum of $3,000 to start a basic UAS unit. Agencies have found success in police grants for technology improvements, homeland security services, or privately funded grant programs. Others have utilized a forfeiture fund program.
Depending on your funding availability, you may need to be creative in finding sufficient funding.
Final Thoughts
A UAS can be a powerful force multiplier for public safety agencies. It is a safe, efficient and effective way to increase mission capabilities. This role was traditionally filled by manned aviation units that are outside the budget of most agencies. Now, with careful research of the right drone for your police department, this technology can be added to the toolbox and provide the advantages of an aviation unit at an affordable level.
---
About the author
Mike Uleski is the chief public safety instructor at DARTdrones and is an active sergeant who is cross trained as a law enforcement officer, firefighter, and EMT. He has a degree in Aeronautical Sciences from Embry-Riddle, a commercial pilot certificate with single-engine, multi-engine and instrument ratings, and 17 years of experience building and flying remote-controlled aircraft.