Nunchucks, sickles among large cache of weapons found in coffin
Volusia County law officers stumbled on an unusual find: a cache of weapons in a coffin in rural DeLeon Springs
---
By Susan Jacobson
Orlando Sentinel
VOLUSIA COUNTY, Fla. — Volusia County law officers last week stumbled on an unusual find: a cache of weapons in a coffin in rural DeLeon Springs.
A Florida Fish and Wildlife Conservation Commission officer on patrol noticed the brown coffin upside down along trees east of Lake Park Road Thursday about 3 p.m., a Sheriff's Office report states. The location is just west of State Road 11.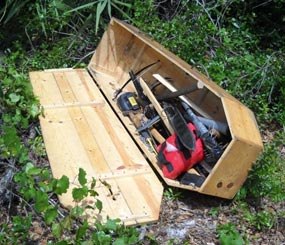 The wildlife agent summoned a deputy sheriff who found old, rusty weapons that bore no signs that they had been used to hurt anyone, according to the report.
The weapons included a set of nunchuks (a Japanese martial-arts weapon also known as nunchaku), forceps, a ball studded with metal spikes, a double-sided ax, a baseball bat with screws attached, scissors, a metal hook on a wood handle, a wood-handled knife, a folding knife, a silver baseball bat, a crowbar, metal chains — including one on a stick — two hatchets, a boat anchor, a poker, blacksmith pliers, a sword blade minus the hand grip, a wooden stick, a hammer, two sickles, large black tongs, two ax handles and a wooden sword.
Copyright 2014 The Orlando Sentinel
McClatchy-Tribune News Service