2 found dead in car trunk at San Diego border crossing
U.S. authorities on Wednesday filed smuggling charges against the driver of a car carrying two Mexican men found dead inside the trunk
---
Associated Press
SAN DIEGO — U.S. authorities on Wednesday filed smuggling charges against the driver of a car carrying two Mexican men found dead inside the trunk after it was inspected at a San Diego border crossing.
Nicholas George Zakov admitted trying to bring the men into the country illegally and told officials he was to be paid $3,500 for the job, according to the complaint filed in U.S. District Court in San Diego.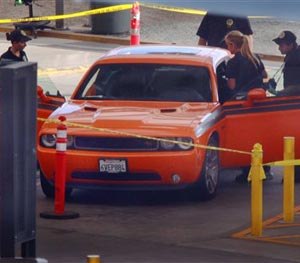 Zakov could not be reached for comment.
A Customs and Border Protection officer spotted something in the trunk of Zakov's 2012 Dodge Challenger while it was driving through an X-ray machine Tuesday afternoon at the San Ysidro port of entry, according to court papers.
When inspectors opened the trunk they found the 28- and 20-year-old men who were not breathing. The men were pronounced dead at a local hospital.
Zakov told investigators he coordinated the smuggling arrangement with three other men while he was in Mexico, and was told to take the migrants to a Denny's restaurant in Chula Vista, just south of San Diego, according to the complaint.
Such deaths are rare in the border region where hundreds of migrants die each year trekking through Arizona deserts and Texas ranches to avoid detection after crossing the border illegally.
Copyright 2014 The Associated Press