Texas National Guard wants 'predictability' on border surge
About 200 guard members still on the border — down from the 1,000 ordered there in June by then-Gov. Rick Perry
---
By Paul J. Weber 
Associated Press
AUSTIN, Texas — Facing a longer mission on the Texas-Mexico border than planned since being deployed last summer, the Texas National Guard on Wednesday sought "predictability" for the troops who are sleeping in motels and watching for a dwindling number of people illegally entering the U.S.
The request to Texas lawmakers came as nearly $1 billion in border security spending since 2008 drew scrutiny and Gov. Greg Abbott remained silent over whether the guard is leaving soon or not.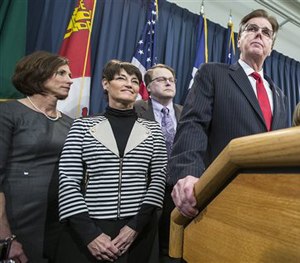 About 200 guard members still on the border — down from the 1,000 ordered there in June by then-Gov. Rick Perry — are funded through March. But new Republican Lt. Gov. Dan Patrick signaled this week that Abbott supports extending the mission through at least August.
After a speaking engagement Wednesday in San Antonio, Abbott would not say whether the guard's deployment would be extended. However, he has called for hiring 500 more state troopers as part of his border-security plan.
"I've laid out a really detailed border security plan that I worked on with the Legislature to make sure it passed. That ensures that if the Legislature passes my plan, it (the border) will be secure," Abbott said.
He also echoed comments made by Maj. Gen. John Nichols, the Texas National Guard commander, who appealed to lawmakers at a nearly two-hour hearing at the Texas Capitol for what he and Abbott called "predictability."
"You take a service member, a citizen, and say 'Go out for 30 days. It might be 60. No, it's going to be 45 now,'" said Nichols, adding that his troops would be ready to serve for a year if asked. "I would just request predictability so that I can say, 'I'd like you go for a year? Can you do it?'"
Perry used his executive authority to send the guard to the Rio Grande Valley at a time when tens of thousands of unaccompanied children from Central America were pouring across the border. President Barack Obama called it a "humanitarian crisis" and Perry said criminals were taking advantage of overwhelmed and distracted U.S. Border Patrol agents.
The guard arrived armed but with orders that are mostly surveillance. When trouble or illegal crossers are spotted, Nichols said his troops alert state troopers or federal agents. He said the guard has weapons for "self-protection" but that no one has been hurt.
Nichols said his troops are trained for long deployments but reminded lawmakers of the toll the stints take on families.
When Perry left office last month, the guard was supposed to be close behind. Republican leaders said late last year that an influx of state Department of Public Safety troopers and installing 4,000 cameras would replace the guard presence starting in April.
Both Abbott and Patrick, however, have promised to be even tougher on border security than their predecessors.
Nichols testified shortly before a few hundred immigrant-rights supporters rallied at the Capitol and urged the Republican-controlled Legislature to not take up issues divisive to Hispanics, which they say include large and expensive border security measures.
Authorities say that when the National Guard first arrived along the border, more than 6,600 illegal crossers were apprehended. Officials say those numbers have now held steady for weeks around 2,000.
"When do we know that we've won?" Democratic state Rep. Armando Walle said.
Copyright 2015 The Associated Press
Copyright Associated Press. All rights reserved. This material may not be published, broadcast, rewritten, or redistributed.