4 ways Nextdoor helps police departments connect with communities
Over 1,000 public safety agencies use the Nextdoor platform to connect with residents on a hyper-local level
---
By Caitlin Lee, Nextdoor
Over the past several years, social media has emerged as a leading communication tool for law enforcement departments, allowing them to disseminate information at the touch of a button. 
Nextdoor is a private social network used by more than 155,000 communities across the United States, which equates to roughly 80 percent of U.S. neighborhoods. From asking for babysitter recommendations to discussing recent crime, Nextdoor helps neighbors stay connected to each other.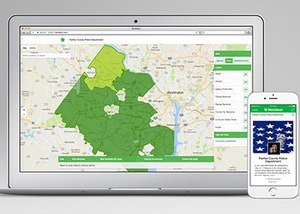 It has also become a vital communication tool for law enforcement. Over 1,000 public safety agencies use the platform to connect with residents on a hyper-local level. With Nextdoor for Public Agencies, law enforcement departments can post important updates to verified residents who live within their jurisdiction. 
Here are four ways Nextdoor helps police departments improve community engagement:
1. Connect with real residents
By using Nextdoor for Public Agencies, departments can reach people who live in their jurisdiction.
When residents sign up for Nextdoor, they must input their home address so that Nextdoor can verify their residence and identify their neighborhood. After this step, residents can join the neighborhood conversation and communicate with other verified neighbors.
When public agencies join the platform, they can communicate with the verified residents within the geographic boundaries of their service area. While anyone can follow a department's Facebook or Twitter page regardless of where they live in the country or world, Nextdoor for Public Agencies guarantees that law enforcement departments are reaching the people they serve.
In addition to address verification, Nextdoor requires that residents sign up using their real names in order to build trust among neighbors. This policy significantly reduces the number of online trolls (or people who purposely harass others on social media with the intent of provoking an emotional response) that are on Nextdoor. 
2. Target your messages to affected areas
Nextdoor offers law enforcement agencies the ability to send geo-targeted messages to specific districts, like police beats, or individual Nextdoor neighborhoods.
This is a vital tool when public agencies are communicating about an issue that is only affecting a part of a city or county. For example, during Hurricane Harvey, the Harris County Sheriff's Office posted targeted tornado updates to specific neighborhoods that were at the greatest risk of being affected. As the storm continued, the Sheriff's Office was able to update groups of neighborhoods on the status of their neighborhoods, provide flood warnings and share shelter information.
Nextdoor for Public Agencies' targeting capability also allows public agencies to assign staff members to specific service areas. For police departments, this means that community officers have the chance to connect solely with Nextdoor residents within their beat district and form stronger bonds with the residents they work to protect every day.
3. Receive relevant feedback from residents
Nextdoor for Public Agencies offers several features specifically for law enforcement agencies that cater to a variety of communication needs. A recently launched feature called "Forward to Police" allows Nextdoor members to forward their crime and safety posts directly to their local public safety department.
While public agencies can post information into the Nextdoor neighborhoods, they cannot see the private neighborhood conversations happening among neighbors (they can only see replies to their agency posts). This is to maintain the privacy of residents connected on Nextdoor. However, the "Forward to Police" feature gives law enforcement agencies transparency into the crime and safety discussions at the neighborhood level without inundating agencies with Nextdoor posts on irrelevant topics like "Free and For Sale" items or recommendations.
Nextdoor for Public Agencies also offers a polling feature that departments can utilize to receive community input from their verified residents. This is a lightweight way for law enforcement agencies to gauge community opinion on a variety of issues and understand how they can better serve residents. Results populate in real-time and are accessible to both Nextdoor members and public agencies at the neighborhood level.
4. Engage the community in neighborhood block watch
The average public safety agency has one law enforcement officer tasked to protect over 500 residents. With that ratio, officers must rely on their residents to help keep the community safe. On Nextdoor, law enforcement agencies can encourage residents to look out for their neighborhoods, and even spur the community into action to help solve a crime or find a missing person.
For example, the Fairfax County Police Department posted a notice to Nextdoor about a serial burglar who had been plaguing several neighborhoods for months. A resident who saw the agency's post noticed a suspicious person hiding in a neighbor's bushes and called police. When officers arrived on the scene, they identified the suspicious man as the wanted serial burglar, and quickly took him into custody.
In Plano, Texas, a young boy went missing late at night. The Plano Police Department posted the boy's picture on Nextdoor and asked for the community's help in finding him. Neighbors went out in droves to search for the boy, and it was a neighbor who ultimately found him.
Is your department ready to join Nextdoor for Public Agencies?
The Nextdoor platform is free for both residents and public agencies. The company has developed a streamlined sign up and verification process for agencies interested in joining so they can get up and running quickly and securely.  Click here to learn more about this free community engagement tool.
---
About the author
Caitlin Lee is a public agency associate at Nextdoor. Caitlin builds and supports partnerships with public agencies and is passionate about sharing the ways in which local governments utilize Nextdoor to strengthen their communities.