Calif. sheriff pleads guilty to false imprisonment
The plea on a misdemeanor charge of false imprisonment in San Francisco Superior Court derailed a trial that promised to smear the sheriff with tawdry allegations
---
By Paul Elias
Associated Press
SAN FRANCISCO — San Francisco's sheriff pleaded guilty Monday to false imprisonment, avoiding a domestic violence trial that could have cost him his job and ending the public airing of a personal drama worthy of the Venezuela telenovela that his wife once starred in.
Ross Mirkarimi, 50, accepted the deal Sunday night, after an appeals court said an emotional video of his 36-year-old wife displaying a bruised bicep could be shown to the jury. The deal also appears to have defused a politically charged atmosphere that included a support group for domestic violence victims erecting a downtown billboard taking a shot at Mirkarimi's claim that the incident was a "private matter."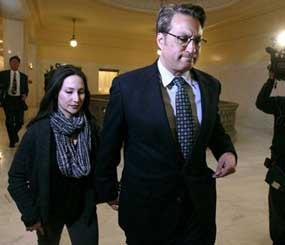 The plea on a misdemeanor charge of false imprisonment in San Francisco Superior Court derailed a trial that promised to smear the sheriff with tawdry allegations of abusive behavior, infidelity and another woman's underwear.
The real-life drama began when a neighbor called police after Mirkarimi's wife, Eliana Lopez, showed her the bruise on New Year's Day. Lopez called police days later and turned over a 55-second video of Lopez discussing the bruise.
Since then, Lopez has steadfastly maintained she was not a victim of domestic violence and told a Venezuela radio station that Mirkarimi was the victim of dirty politics. She had refused to testify in the trial. Venezuelans and other Latin Americans followed the case closely because of Lopez' celebrity as a popular television actress.
Political commentators and legal analysts said the plea bargain was a reasonable end to the drama.
"He cut a good deal, and he did get a break," said Peter Keane, a Golden Gate University law professor and a politically connected former chief assistant public defender in San Francisco. "But it was well within reason for the prosecutor to also make this deal."
Keane cited Mirkarimi's otherwise clean criminal history and the single bruise as among the reasons prosecutors sought to make the deal.
"Generally, domestic violence cases include much more physical and mental abuse that usually requires something more dramatic than a bruise," Keane said. "As serious as this was, it appears to be a one-time deal and the prosecutor did get a conviction for his actions."
Mirkarimi agreed to three years of probation, a $590 fine and one-year of counseling and parenting classes when he is formally sentenced next Monday. He needs a judge to remove a "stay-away" order that bars him from contacting his wife or toddler son.
Mirkarimi was initially charged with misdemeanor domestic violence battery, child endangerment and dissuading a witness. Those charges were dropped in exchange for the sheriff's guilty plea to the imprisonment charge.
He could have faced a year in jail if convicted of the original charges and would have been barred from carrying a gun. If he had been convicted, the mayor and the Board of Supervisors also would be under pressure to remove him from office.
With the domestic violence and child endangerment charges gone, it appeared little political will remains to start the removal process, which requires a trial before the board and at least eight of 12 supervisors voting to throw him out of office.
Mirkarimi served eight years on the board before term limits forced him from the seat in January, when he was sworn in as sheriff. He has several political allies among his connections with some supervisors on the board.
Mirkarimi tearfully told reporters outside court that he intends to remain as sheriff after enduring two months of political uncertainty.
Mayor Ed Lee's office didn't immediately respond to a request for comment.
Lopez has appeared in TV shows and films in Latin America. She is best known as Oriana Ponce De Leon, a villain-turned-heroine on the Venezuelan telenovela, "Amor a Palos." She's scheduled to star this year as Venezuelan Independence War heroine Luisa Caceres de Arismendi in the feature film, "The Colonel's Wife."
Lopez met Mirkarimi in 2008 at an environmental conference in Brazil. They married after she gave birth to their son, Theo, in 2009.
Court documents show that the two began arguing on New Year's Eve over Lopez' desire to take Theo on a trip to Venezuela after Mirkarimi's Jan. 8 inauguration.
On Monday, Mirkarimi told the judge that he would like to apologize to the neighbor for enduring criticism for contacting police. Mirkarimi said he has realized that the action was done "out of desire to help my family."
Outside court, he said the case has caused "great turmoil, pain and disappointment" for his family, the Sheriff's Department and the city of San Francisco. The plea "allows us to move forward," he said.
Mirkarimi said he would address the case in detail after he is sentenced and "released from the constraints of the process."
Outside court, prosecutor Elizabeth Aguilar Tarchi said "we wish the victim and her family the best."
Copyright 2012 Associated Press