Chicago PD confirms Larry Snelling as next police superintendent
Superintendent Snelling "has the experience and the respect of his peers to help ensure the safety and well-being of all city residents," Mayor Johnson said
---
Associated Press
CHICAGO — Chicago's City Council unanimously confirmed Larry Snelling as the city's police superintendent Wednesday, elevating the department's counterterrorism chief to lead a department coping with a mixed bag of crime.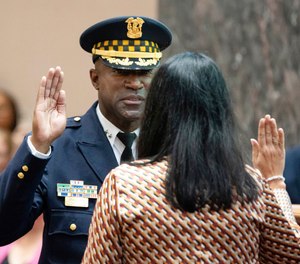 After the council approved Snelling by a 48-0 vote, City Clerk Anna Valencia administered the oath of office to him and interim department head Fred Waller pinned the superintendent's star on his chest.
"Superintendent Snelling is a proven leader," Mayor Brandon Johnson said, "who has the experience and the respect of his peers to help ensure the safety and well-being of all city residents, and address the complex challenges we all face related to community safety."
Snelling said in a statement it was "a tremendous honor to answer the call to serve my hometown and the people of Chicago as Superintendent of the Chicago Police Department, and I thank the City Council for the overwhelming support."
"In order to continue to make progress as a department, we must embrace innovation and partnership, continue to strengthen morale, and go further in strengthening bonds of trust between police and community," Snelling said.
In Chicago so far this year, motor vehicle thefts have risen 86% citywide compared to the same period last year, robberies are up 24% and thefts are increasing 8%, while slayings have fallen 11% and shootings are down 13%, the Chicago Sun-Times reported.
Snelling succeeds David Brown, who in March announced that he would step down the day after Chicago's mayoral primary election in which crime was a central issue. Then-Mayor Lori Lightfoot lost that primary, and Johnson went on to win the mayoral race in April.
Snelling was raised on the city's South Side. He has a bachelor's degree in adult education from DePaul University and joined the department in 1992 as a patrol officer.
He has been chief of the department's bureau of counterterrorism since 2022.
Snelling was one of three finalists nominated by the Community Commission for Public Safety and Accountability. The other two finalists were Shon Barnes, the police chief in Madison, Wisconsin; and Angel Novalez, Chicago police chief of constitutional policing and reform.