Chief accused of saying deputy died of COVID-19 because he was gay announces retirement
Multiple officers confirmed they heard former Chief Dale Engle say the deputy died because of his "homosexual lifestyle"
---
By Caroline Ghisolfi
Miami Herald
DAVIE, Fla. — The former Davie police chief accused of saying Broward sheriff's deputy Shannon Bennett died of COVID-19 because he was gay is retiring after a three-month investigation.
Dale Engle announced he will retire on Sept 3 in a letter to the Town of Davie last week, according to Assistant Town Administrator Phillip Holste.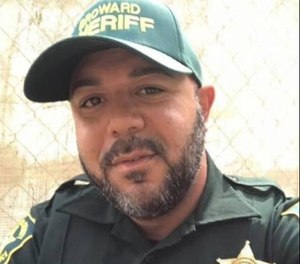 "We think it's the right decision," said Lisa Boeving-Learned, a member of the Ethical Society of Police and a retired Tampa Police Department sergeant. "We are not in a position to comment about the investigation, but ... multiple police officers confirmed what they heard. It's shameful that an officer that died of COVID-19 was smeared like that by their leader."
Four days after the 39-year-old Bennett died on April 3, Engle allegedly yelled at Davie police employees that their concerns about the spread of the virus were "baseless" and that Bennett's death was caused by his "homosexual lifestyle," according to a letter sent to Davie administrator Richard Lemack from the Florida State Lodge Fraternal Order of Police Labor Council Committee.
"Chief Engle's actions constitute a hostile work environment and warrant an immediate and thorough investigation," the committee's chief of staff, Mike Tucker, said in the letter.
In a subsequent email, the former chief confirmed addressing the department's members about Bennett's death, but said his comments "were not intended to be derogatory," the Miami Herald reported.
In the aftermath of the incident, Engle was put on administrative leave pending an investigation into his alleged remarks and Lemack appointed former Davie Police Chief Patrick Lynn as acting chief.
The investigation is ongoing, officials said this week.
Engle told the Sun Sentinel that he was not pressured to retire by town officials and came to the decision after his children received derogatory messages on social media.
Several civil rights organizations called for Engle's retirement on social media, including the Ethical Society of Police and Equality Florida, an LGBTQ advocacy nonprofit.
"In these challenging moments, we need our leaders and public servants to be standing with us, not demonizing us," Equality Florida Public Policy Director Jon Harris Maurer said in a letter to Broward County officials on July 8.
Maurer demanded that the Town of Davie remove Engle from the police department for failing "to demonstrate the respect and leadership skills needed to protect all individuals who reside or visit Davie," he said in the letter.
Engle was sworn in as police chief in April 2019, after working as a police officer in New Hampshire, serving 16 years in the U.S. Army Reserve and climbing the ranks at Davie Police Department for 22 years.
©2020 Miami Herald
McClatchy-Tribune News Service