Fla. sheriff blasts Amazon for not cooperating in employee package theft case
Amazon refused to release to investigators the name of an employee caught on camera stealing packages
---
Mark Young
The Bradenton Herald
POLK COUNTY, Fla. — Polk County Sheriff Grady Judd has a reputation for speaking his mind, and he didn't hold back his frustration in criticizing Amazon on Thursday after the online retail giant failed to cooperate in an investigation into one of its employees.
The employee was caught on video delivering packages, taking a photo to prove delivery and then stealing the packages, deputies said.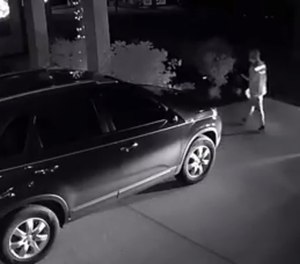 Several attempts to get information from Amazon was met with the sheriff's office being told by several Amazon managers that it needed a subpoena, Judd said.
"I'm not surprised by much anymore, but this lack of cooperation from Amazon floors me," Judd said in a post on Facebook. "All we needed was a name — they knew who committed this crime ... and they would not tell us without serving legal process to their corporate headquarters in Delaware. This is just irresponsible on their part."
Judd continued: "They apparently don't care about the ongoing safe and secure delivery of their packages to their customers and exposing other customers to burglary and theft. It is impossible to believe this was this guy's only theft."
Amazon is apologizing for any misunderstandings with the Polk County Sheriff's Office.
In a statement to the Bradenton Herald, an Amazon spokesman said, "We work regularly and closely with law enforcement across the country and are working to understand what occurred here, to make it right and to reach out to Polk County to apologize."
The theft occurred on Dec. 19. Jose Campos, 27, was shown on the video delivering the package, which he then stole, from a home near Davenport, according to deputies.
Judd said because the suspect was an employee of Amazon, it should have been a simple case to close and to take Campos off the street. But the sheriff said Amazon's refusal to cooperate and identify the employee left the case open for days more than it needed to be.
Campos was eventually arrested Thursday and booked into the Polk County jail on charges of burglary and theft.
According to the sheriff's office, Campos admitted that he was on the homeowner's video surveillance and that he was directly employed by Amazon at the time.
McClatchy-Tribune News Service